Courage Award for Achievement in a Correctional Setting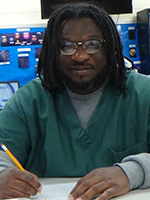 The saying goes, "If at first you don't succeed, try, try again." Winston Churchill said it more eloquently: "Success is not final, failure is not fatal: it is the courage to continue that counts."
This year's Courage Award for Achievement in a Correctional Setting goes to an individual who spent 10 years failing at his personal goal of achieving his High School Equivalency Diploma, or HSED. Mr. Jody Byrd, Sr. is a 45-year old man who grew up in a tough environment. As a youth, Mr. Byrd received special education services but was still not able to overcome his learning difficulties. Mr. Byrd began working on his GED/HSED certificate in 2007. He worked for 7 years on the "old" paper and pencil test with no success. In 2014, a new version of the test required all adults who had partially completed the old test, to start from the beginning. The new version of the test needed to be completed on a computer, which presented yet another barrier to Mr. Byrd.
Frustrated with the years of studying without success and the challenging test updates, Mr. Byrd made choices that limited his access of the institution's educational programs.
After several failed attempts, Mr. Byrd successfully enrolled in the Competency Based Education program to earn an HSED. He studied with teachers and peer tutors in small groups and with one-on-one support.
Throughout 2017, Mr. Byrd worked with a great deal of determination to earn his HSED.
Mr. Byrd says he now knows "how to speak and pronounce words correctly, how to make complete sentences, how to do algebra and geometry and also about industrialization and globalization." Mr. Byrd says he may be "up in age," but he can finally say, "I did it! Now, I can go home with my diploma and set a better example and be a role model for my kids and grandchildren."
According to his teachers, the pay-off for Mr. Byrd's 10 years of dedication can be seen in the awesome smile he displays in the hallways when congratulated on his most recent accomplishment.