Literacy Advocate of the Year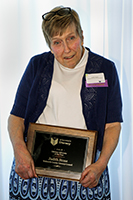 How often do we recognize a problem but think we don't have the time or the resources to tackle it? The problem is just too big. Our next award recipient saw a need for literacy services in Walworth County, rolled up her sleeves, and went to work.
After Judy Stone retired as a math teacher, she didn't stop looking for opportunities to help educate others. She realized that Walworth County had a sizable non-English speaking population and a smaller population of native English speaking adults who were unable to read and write. She also realized that, with no literacy council, there was limited support available to these populations. She devoted her time to addressing the pressing literacy issues in Walworth and started building a literacy council from the ground up.
She worked with the County, the Workforce Development board, job center, libraries, schools, community groups, Gateway Technical College and Racine Literacy Council. She built a board, secured funding, hired part-time staff, set up a recruitment and referral system, tutor training and matching, assessments, and appreciation events. Over 15 years, she has kept the Council going and has continued to face challenges as they arise.
Judy improved the quality of life for residents of Walworth by raising awareness of the literacy need and providing needed literacy services. Judy has personally trained over 200 tutors and is a tutor herself. In her work at the Council, she has empowered over 500 students.
As a fellow board member said, "I have known Judy for nearly 15 years, as a tutor and as a fellow Board Member. I am so impressed and inspired by her humble nature, and her selflessness in helping others. She is the last person to ever want or need accolades. She believes that Walworth County residents' lives would be greatly enhanced by education. She has never waited for anyone else to find a solution to the severe literacy issues facing our county. Instead, she has dedicated 15 retirement years to developing a thriving literacy program, in which volunteers and students come together in the name of education."
Thank you, Judy, for seeing a need in the community and making your visions a reality.