Outstanding Achievement in a Workplace Literacy Program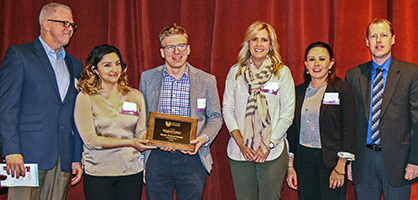 This next honoree demonstrates dedication and caring for all team members and a desire to see them succeed and progress not just at work but in their personal lives, as well.
North Central Group, a Middleton-based hotel group that operates in six states, approached Literacy Network because they wanted to support the English language skills of their "heart of house" team – the housekeepers, food services providers, and maintenance staff. They saw that some team members had difficulty communicating with hotel guests and co-workers, a central part of the hospitality industry. They understood that by improving English language communication skills, team members would be more confident and able to connect with co-workers and hotel guests.
North Central Group approached Literacy Network to create a specialized curriculum in the summer of 2015, and they have enthusiastically embraced the program since. Company leadership supported 20-30 team members attending classes at one time, by accommodating schedules and making sure on-site classes were convenient for all participants. Classes focus on foundational English to help team members communicate more effectively at work and in their daily lives. Participants practice real-life situations during class, such as giving directions to hotel guests and discussing schedules.
After the success and popularity of their west Madison program, North Central Group added another class for their east side locations. They encourage practice outside the classroom with speaking and writing assignments that are completed at work and shared with supervisors, helping to build employee relationships. The supervisors, managers, and other staff have helped out as teaching assistants in the east side class, cheering on their fellow team members.
Classes are full and employee retention has increased along with job applications. North Central Group's vision and support of all team members has strengthened the overall camaraderie and engagement of their workforce. The benefits extend into their home life. One class participant says, "I can understand the guests. I can make doctor appointments for my daughter." Another states, "In the class, I better understand the meaning of words, pronunciation, and I speak a little more English. In my work, I lost the fear of speaking English with people."