Outstanding Achievement in Family Literacy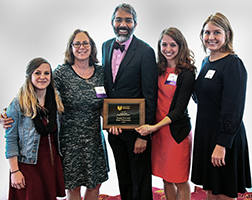 Reach Out and Read Wisconsin is a statewide affiliate of the national, evidence-based program. Clinicians, trained in this evidence-based model, encourage parents to talk, sing, play and read aloud with their babies from birth. Children ages 6 months through 5 years leave the well-child visit with a new, developmentally– and culturally-appropriate book. This two generation approach, with a special emphasis on children growing up in poverty, empowers parents as their child's first and most important teacher and inspires a love of books to last a lifetime.
 
Fifteen independent, peer- reviewed, research studies on Reach out and Read, show:
• Parents involved are 2.5 times more likely to enjoy reading with their children
• Children's language development is improved by 3 to 6 months
• Families are 2.5 times more likely to have books in the home.
More than 30 percent of Wisconsin children enter kindergarten without the skills they need to learn to read. Studies show 88 percent of these children never catch up. You will learn from our keynote today, the Medical Director of ROR WI that Ages 0-3 are the most critical for brain and language development, and parents and caregivers have the most powerful voice in building their child's brain infrastructure. Children who are read to at an early age develop a lifetime love of books and learning.
Compared to other affiliates across the country, the WI ROR program is outstanding in many aspects. They've existed as a formal statewide program of the Children's Health Alliance for only 7 years. In this time, Medical Director Dipesh Navsaria and a small but mighty team of 3 staff members (Karin Mahoney, Alex Rodgers and Amber Bloom) have grown the program from 55 participating clinics to 210 -- the seventh largest affiliate in the country!
They have improved the quality of clinician training and increased the percentage of clinics that complete training. The national ROR has named Dr. Navsaria to their Board. Karin Mahoney, Program Manager was awarded the Wyntress Smith award from the National ROR Center for her passion excellence, respect and innovation, and most recently ROR received the Department of Public Instruction's Friend of Education award in 2017.