Outstanding Achievement in Health Literacy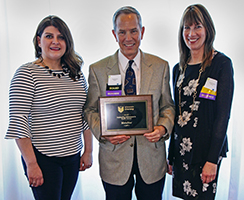 How can we do it better? This question is the foundation of all quality improvement strategies at MetaStar.
MetaStar is dedicated to working with healthcare providers to redesign processes, sustain positive changes, and deliver higher quality and higher value care for patients in our state. With a special focus on Medicaid and Medicare recipients, health literacy plays an important role in the work they do.
In a recent survey conducted by Wisconsin Health Literacy, 1 in 4 Wisconsin residents say they have taken medications incorrectly, because the directions on the label were confusing.
Beginning in 2010, when MetaStar President Greg Simmons chaired one of the workgroups at the statewide "Wingspread Conference," MetaStar has been a guiding force in improving patient safety through improved medication labels. At the Wingspread Conference, Greg shared that lack of understanding of medications was one of the most significant health literacy problems facing patients in Wisconsin.
MetaStar has been instrumental in opening the door to successful collaborations with pharmacies and pharmacists across the state, with the shared goal of implementing patient-centered medication labels. In addition, their support of medication workshops has given thousands of Wisconsin residents the opportunity to learn how to use medications safely and effectively.
MetaStar was an early adopter of Wisconsin Health Literacy's work, with many long hours of Greg's time devoted to helping develop a business plan for the new health literacy division. This was instrumental in guiding Wisconsin Health Literacy's priorities, direction and ability to take the health literacy message to health care providers, organizations and patients.
Committed to emphasizing the importance of health literacy, MetaStar has served as a lead sponsor of past Wisconsin Health Literacy Summits, and has encouraged staff and other partners to attend and learn more about how health literacy impacts patient safety and health outcomes.
MetaStar's leadership in reaching providers and patients alike with the important message on how improved health literacy can result in improved health outcomes and a better quality of life, has made them the 2018 recipient for Outstanding Achievement in Health Literacy.