Outstanding Adult Literacy Learner of the Year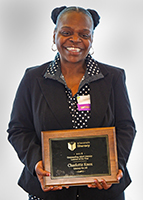 Life is full of challenges and obstacles. For some adults, these challenges start in their childhood and follow them into adulthood - one problem leading to another. Overcoming a number of hurdles in her life, our first recipient worked hard to return to school and continue her education.
Charlotte experienced a trauma at a young age and then dropped out of school. After she dropped out, she battled with drug addiction for 20 years. It was a tremendous struggle, but Charlotte was eventually able to stop using drugs.
She worked in a youth group home, and, after time, became a shift counselor. The hours were long, the job was physically demanding, and she often worked third shift. Making only 12 dollars an hour, Charlotte was, in her words, "working all the time and living in poverty."
In 2014, she took the first step to resuming her education. She began to study for a GED. She was scared to go back to school, especially when she realized that she had dropped out of school just as she was learning what nouns and verbs were. Nevertheless, she was dedicated to her studies, often completing her homework in front of her young clients. All her hard work paid off when she and her daughter received their GEDs at the same time.
Charlotte didn't stop there. She wanted more. She enrolled in Springfield College-Milwaukee Campus in the fall of 2016, for a four-year degree geared towards working adults. Just before her classes started, however, she faced personal health set-backs. She suffered a stroke, which left her weak and unable to work. Around the same time, her daughter was hospitalized with asthma complications. Charlotte paused for only one semester before beginning her college career.
She found herself in a challenging and intense academic program, after having not written a formal paper in more than 30 years. She sought a one-on-one tutor from Literacy For All. She put in 10-15 hours a week with her tutor, focusing on technology, proofreading, academic and research writing skills.
Outside of the classroom, however, Charlotte's personal life was anything but stable. She often struggled with the fact that she was spending time to finish a college paper, when she didn't know how she and her family were going to eat dinner that night.
With Literacy For All's help, Charlotte worked on her job skills and was able to open a qualified childcare facility in her home. She is currently only 2 years away from getting her bachelor's degree in mental health and human services.
Literacy transforms lives.