Outstanding English Language Learner of the Year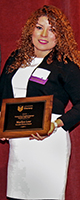 Imagine leaving your home, your family, your job, everything you know. You know you have to leave, but you don't want to say goodbye. After an exhausting journey, you arrive in the country that is now your home. You ask yourself, how do you make this new place your home when you can't speak the language? For our next recipient, this question was the catalyst for pursuing education to embrace the new and unexpected.
Marilyn lived in Ecuador her whole life. In Ecuador, she studied hotel administration and had two jobs. She loved Ecuador, a country with a diverse landscape encompassing the Amazon jungle, Andean highlands and the wildlife-rich Galápagos Islands. Her friends and family were there. She was torn when she had to come to the United States with her husband.
It was hard to say goodbye to her life in Ecuador, but she was determined to make a new life for herself in Kenosha, Wisconsin. She knew the key to being successful in the U.S. was to learn English so she could continue her education and get a good job. She immediately started taking English classes at Kenosha Literacy Council and Gateway Technical College.
At Kenosha Literacy Council, her first class was English Language Civics, where she learned about the community and the U.S. government. At first, she was confused when she listened to the news, especially politics, but, through her English Civics class, Marilyn eventually developed the knowledge base and confidence to not only understand but also share opinions about the news she heard.
Marilyn dedicated herself entirely to mastering the English language and understanding American culture, by participating in tutoring programs, conversation classes, and the book club at Kenosha Literacy Council. Currently, she is busy preparing for her next goal - U.S. Citizenship.
With her improved English, Marilyn got a job as a student-peer advocate at the Multicultural Resource Center at Gateway Technical College. In addition to Citizenship classes, she is enrolled in two general education classes, with the goal of becoming a radiologist.
Marilyn has fully embraced her adopted country and given back to other students in her role at the Multicultural Resource Center.