Tutor of the Year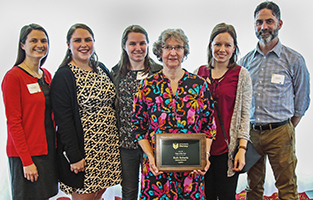 The national monetary value of volunteer time is $24.14 per hour. Our next honoree has logged an impressive 2,000 hours – a value of $48,280 - as a literacy volunteer, furthering the mission of a community based literacy program. But the true value of Ruth Robart's work is immeasurable. She has done so much more than donate her time – she has generously given her skills, optimism, patience and respect to change the lives of her adult learners and their families.
After retiring from UW School of Law in 2009, Ruth reached out to Literacy Network. She began by tutoring English language learners. Nine years later, she continues in her capacity as a tutor and also serves as a lead teacher in the U.S. Citizenship class. Her respect for students, her kindness, and optimism have empowered many adult learners as they look for better work, support their kids in school, and earn their citizenship.
One learner in particular, Cristina, has benefitted tremendously from a long-standing weekly tutoring date with Ruth. Ruth's support of Cristina has improved her communication with her employer and given her the confidence to regularly connect with her daughter's school and teachers.
Ruth doesn't only teach components of the English language, she also empowers her adult learners to become leaders and active learners. She has created a citizenship team within her group Citizenship class. Students support one another throughout different civics lessons. Learners who have mastered one topic have the opportunity to express their knowledge while helping a classmate who is still working toward complete understanding. This supportive environment and focus on individual strengths and needs, ensures that every learner receives the instruction, encouragement and practice they need to prepare for the citizenship test.
Ruth's impact spreads through every student who interacts with her. Her passion and generosity resonates in her work. She cares deeply about the learners and their families.