Conferences
National Health Literacy Conferences
In addition to the biennial Wisconsin Health Literacy Summit, there are a number of other highly regarded annual health literacy conferences across the United States. For dates of upcoming conferences, see the following links: 
Institute for Healthcare Advancement (IHA) Health Literacy Conference: The 16th Annual Health Literacy Conference will be held May 3-5, 2017, Irvine, CA
Health Literacy Leadership Institute 2017: This week-long program is designed for both professionals and students engaged in health literacy work. It is an advanced level program that integrates peer learning to facilitate and encourage research and best practices.  Whether you work in the community or in healthcare this program will help you achieve your goals and improve health literacy.  
 
WHY:        To advance health literacy and build leadership in the field
WHEN:     June 12 – 16, 2017
WHERE:   Tufts University School of Medicine (Boston, MA)
HOW:       Early registration deadline extended to April 28, 2017. Register today!  
 
For more information and to register:
Web:             http://go.tufts.edu/summerinstitute
Facebook:    @HealthLiteracyLeadership
 
Boston University Medical Campus Health Literacy Research Conference (HARC): - held annually in Bethesda, MD
Maximus Center for Health Literacy Plain Talk Conference: held annually in Arlington, VA
The Institute of Medicine Roundtable on Health Literacy: These are day-long workshops that focus on a particular issue.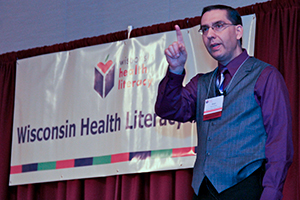 Health Literacy Summit
Over 350 people attended the 2017 Wisconsin Health Literacy Summit, which focused on how improved health literacy can help individuals become more engaged with their health and healthcare.

An additional 80 individuals attended the Medication Label Summit centering on how improving prescription drug labels can help patient understanding. Visit our Summit page for more information.