Concurrent Breakout Session B (Tues., April 4, 2:45 - 3:45 pm)
B1: Moving from Education to Engagement – Using Hands on Activities to Assess and Build People's Knowledge, Attitudes, Beliefs and Values about Health
Susan Reid, Director, Health Literacy NZ Limited 

In health settings, education often consists of telling people about their health and what they need to do rather than engaging with what the person already knows and believes. Often this telling approach results in the person not changing behaviours and the health professional characterising the person as non-adherent. This workshop demonstrates how to engage people and families with acute and chronic conditions to help them synthesise new information with what they already know and believe. This, in turn, will help them better understand their condition and make appropriate future decisions. This hands-on practical workshop will demonstrate how one can use visuals and props with patients to help assess and build their knowledge, attitudes, beliefs and values about their long term and acute health conditions.
 
B2: Strategies for Implementing Health Literacy Practices in Healthcare Organizations: The Key Ingredients
Audrey Riffenburgh, Ph.D. (candidate) President, Plain Language Works, LLC

Despite widespread awareness of the challenges healthcare organizations present to patients and their loved ones, many organizations have not embraced health literacy initiatives. Moving health literacy best practices into organizational systems and processes can be tough. This session describes the results of a study on strategies healthcare organizations across the U.S. are using to increase awareness of health literacy, make the case to leadership, and implement best practices. This session will share key strategies, lessons learned, and recommendations for moving your organization toward becoming health literate. It will also provide a list of resources to help you on the journey. 

B3: Health Literacy Resources and Projects to Inform, Engage and Inspire 
Clarify, Don't Terrify! Utilizing National Library of Medicine Resources for Health Literacy


Elizabeth Kiscaden, MLIS, AHIP, Associate Director, National Network of Libraries of Medicine Greater Midwest Region;


Carolyn Martin, MLS, AHIP/Consumer Health Coordinator, National Network of Libraries of Medicine Pacific Northwest Region





This session will introduce participants to health literacy resources available through the National Library of Medicine, and to highlight health literacy programs funded through the National Network of Libraries of Medicine (NNLM). Participants will learn about the Easy-to-Read patient education materials made available through MedlinePlus, a consumer health database. Additionally, participants will learn to use cultural competency resources such as the American Indian Health portal, the Native Voices project and HealthReach. Successful health literacy projects funded through the NNLM will be highlighted, and participants will receive information on how to apply for federal funding through the NNLM to support their own projects or partnerships.


 
Graphic Medicine: A Visual Narrative Approach to Health Literacy    
Matthew N. Noe, MSLS, Library Fellow, University of Massachusetts Medical School, Lamar Soutter Library/National Network of Libraries of Medicine New England Region



Roughly 12% of English-speaking adults are considered to have proficient health literacy, a number that drops even further for children, young adults, and non-native English speakers. Visual tools have been shown to be a valuable way to combat this problem, with comics in particular deserving greater attention. This session will help participants understand the growing use of comics in medicine – known as graphic medicine – by placing it in the context of general literacy and by providing key information on sources for further study and ideas for program development.
 
B4: Opening Doors to Health Literacy at Your Library
Leslie Gelders, BBA, Literacy Coordinator, Oklahoma Literacy Resource Office, Oklahoma Department of Libraries;
Pam Bean, MLIS, Head Reference/Adult Services Librarian, Southern Oklahoma Library System

Health literacy at a library doesn't have to mean hosting a health fair. It can be pickle making, hula hooping, and A Very Hungry Caterpillar. If you are not including public libraries in health literacy efforts, you are missing out on partnerships that can provide a treasure trove of resources. This workshop will cover such topics as how to encourage library participation, how to connect with a variety of community partners, and what resources are available at libraries. Information will be provided on how libraries and literacy programs developed interesting and innovative health and wellness projects in communities of all sizes.

B5: Cancer Clear & Simple: A Health Literate, Community-Driven Cancer Education Program
Cody Fredrick, MPH, University of Wisconsin Carbone Cancer Center, Cancer Health Disparities Initiative;
Mary Ann Schilling, M.Ed., Family Living Educator, Associate Professor, University of Wisconsin-Extension, Waushara County

Cancer Clear & Simple (CC&S) is a key tool used by UW Carbone Cancer Center's Cancer Health Disparities Initiative to help reduce cancer disparities through community-based research, education and training with underserved populations. CC&S is a set of cancer educational materials that includes a curriculum, Facilitator Guide and educational handouts. CC&S has been adapted for use with rural, African American and Latino audiences. This presentation will describe the CC&S adaptation process, available cancer education tools, evaluation results, and current activities. All CC&S materials incorporate health literacy principles and are designed to build knowledge and improve health-related decision-making.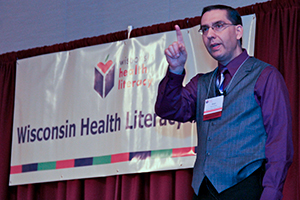 Health Literacy Summit
Over 350 people attended the 2017 Wisconsin Health Literacy Summit, which focused on how improved health literacy can help individuals become more engaged with their health and healthcare.

An additional 80 individuals attended the Medication Label Summit centering on how improving prescription drug labels can help patient understanding. Visit our Summit page for more information.