Hotel Accommodations
A limited number of rooms in two nearby hotels have been reserved for Summit guests at discounted rates. To make a reservation contact the hotel directly on-line or by phone and mention the Health Literacy Summit. 
Hilton Madison Monona Terrace
9 East Wilson St.
(608) 255-5100
On-line registration
Room rate:
    1 King Bed: $144
    2 Double Beds: $144
Guest parking: $17/day
Deadline: March 10, 2017

Madison Concourse Hotel and Governor's Club
1 West Dayton St.
(800) 356-8293
On-line registration
Room rate:
    Single/Double: $129
    Triple: $139
    Quad: $149
Guest parking: $10/day
Deadline: March 7, 2017

Please note: Room rates subject to applicable state and local taxes.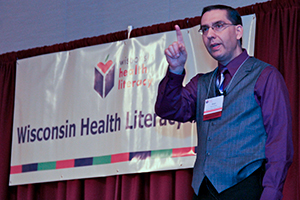 Health Literacy Summit
Over 350 people attended the 2017 Wisconsin Health Literacy Summit, which focused on how improved health literacy can help individuals become more engaged with their health and healthcare.

An additional 80 individuals attended the Medication Label Summit centering on how improving prescription drug labels can help patient understanding. Visit our Summit page for more information.