Networking Reception and Poster Presentation (cash bar)
Be sure to join us for these informative poster presentations on Tuesday, April 4, from 5:15 p.m. to 7:00 p.m. in the Community Terrace Room.
The Association of Health Literacy and Self-Efficacy with Medication Adherence and Diabetes Control
Yen-Ming Huang, MS, third year graduate student in Social and Administrative Sciences, School of Pharmacy, University of Wisconsin-Madison;
Olayinka O. Shiyanbola, PhD, Assistant Professor, Social and Administrative Sciences, School of Pharmacy, University of Wisconsin-Madison
Cooperative Extension's National Focus on Health Literacy
Nancy Crevier, MS, Associate Professor and Family Living Educator, University of Wisconsin- Cooperative Extension; Health Literacy Specialist, Family Living Program, University of Wisconsin-Cooperative Extension
Smart Use Health Insurance™: Smart Actions for Using Your Health Insurance
Virginia Brown, DrPH, Doctor Minor, Extension Educator, University of Maryland Extension

Spanish Language Children's Books Focusing on Health Literacy: An Annotated Bibliography
Beth McGowan, Health Science and English Librarian, Northern Illinois University;
Kathy Ladell, Outreach/Latino/Latin American Studies Librarian at Northern Illinois University

Patient Centeredness and Health Outcomes in a Low-Health Literate Population
Iris Feinberg, PhD, Associate Director, Adult Literacy Research Center, Georgia State University

Helping Consumers Choose and Use Health Care
Steven R. Rush, MA, LP, Director, UnitedHealth Group Health Literacy Innovations Program;
Salima Merchant, RN, BSN, CPC, Sr. Clinical Practice Consultant, UnitedHealthcare

Clarify, Don't Terrify! Utilizing National Library of Medicine Resources for Health Literacy
Elizabeth Kiscaden, MLIS, AHIP, Associate Director, National Network of Libraries of Medicine Greater Midwest Region;
Carolyn Martin, MLS, AHIP/Consumer Health Coordinator, National Network of Libraries of Medicine Pacific Northwest Region

Graphic Medicine: A Visual Narrative Approach to Health Literacy
Matthew N. Noe, MSLS, Library Fellow, University of Massachusetts Medical School, Lamar Soutter Library/National Network of Libraries of Medicine New England Region

Cancer Clear & Simple: A Health Literate, Community-Driven Cancer Education Program
Cody Fredrick, MPH, University of Wisconsin Carbone Cancer Center, Cancer Health Disparities Initiative;
Mary Ann Schilling, M.Ed., Family Living Educator, Associate Professor, University of Wisconsin-Extension, Waushara County

A Framework for Converting Adult Learners' Experiences into Health Literacy Curricular Materials 
Maricel Santos, Ed.D., Associate Professor of English, San Francisco State University

Health Literacy Education in Nursing Education
Sheryl Scott, DNP, RN, CNE, Assistant Professor and Chair of the School of Nursing at Wisconsin Lutheran College
Exceptional Lives: Interactive Online Guides for Parents of Kids with Disabilities
Anne Punzak Marcus, MS, co-founder and Board Chair of Exceptional Lives, Inc.;
Julie McKinney, MS, Independent Consultant with McKinney Health Services
Using Health Literacy Best Practices to Foster Healthy Behaviors for the Developmentally Disabled
Theresa Serio, Community Health Educator, University of Maryland Extension;  
Virginia Brown, DrPH, Doctor Minor, Extension Educator, University of Maryland Extension
Teaching Oral and Written Health Literacy Skills in an Undergraduate Pre-Clinical Program
Doris Ravotas, PhD, Coordinator of Interdisciplinary Health Services, Western Michigan University;
Lori Stegmier, M.A., C.H.E.S., Instructor, Western Michigan University
Medical Education Health Literacy: Embedding the Plain Language Summary into medical school and resident didactics
Connie M. Bongiorno, MSLS, Clinical Information Librarian and Assistant Professor, University of Minnesota;
Katherine V. Chew, MLS, Associate Librarian, Research/Outreach Services, Health Services Libraries, University of Minnesota
Achieving the Triple Aim by Advancing Health Literacy with Interactive Incentives and Information Therapy
Jeffrey C. Greene, CEO and Founder, MedEncentive
eHealth Literacy Impact on Diabetes Patients
Muhammad Amin, Manager, Mansoor Enterprises;
Mansoor Sabir, Director, Mansoor Enterprises
Prescription Labels: Adherence to USP Chapter 17 Standards Clark Kebodeaux, Pharm.D., BCACP, Clinical Assistant Professor of Pharmacy Practice and Science, University of Kentucky College of Pharmacy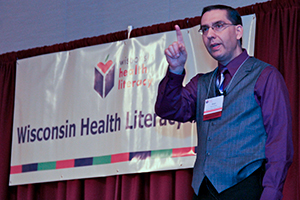 Health Literacy Summit
Over 350 people attended the 2017 Wisconsin Health Literacy Summit, which focused on how improved health literacy can help individuals become more engaged with their health and healthcare.

An additional 80 individuals attended the Medication Label Summit centering on how improving prescription drug labels can help patient understanding. Visit our Summit page for more information.