Geri Lynn Baumblatt, MA, is the Executive Director of Patient Engagement at Emmi and has overseen the creation of a library of multimedia patient engagement, shared decision-making, and behavior change programs and interactive calls to help people transition from hospital to home or take preventive actions. The programs and research have won IHA, ClearMark, and Leonard G. Doak Health Literacy Innovator awards. She's on the board of the Journal of Patient Experience and hosts an annual Health Literacy Month blog series. She regularly participates in conferences and expert panels for AHRQ, the Brookings Institute, HARC, Stanford, the Society for Medical Decision Making, The Cleveland Clinic and The Beryl Institute. 
Pam Bean, MLIS, is the Head Reference/Adult Services Librarian at the Southern Oklahoma Library System. She graduated from Oklahoma State University in 1977 with a BS in Education, with a teaching field of Library Science. She began her library career at Ardmore Middle School and continued working with sixth, seventh and eighth graders for over thirty (30) years. In 1989 she graduated from Oklahoma University with a Master's Degree in Library and Information Studies. She retired from education in June of 2010 and began a new career with Southern Oklahoma Library System.
Cindy Brach (see also Plenary Presenters) M.P.P. is the Senior Health Care Researcher at the Agency for Healthcare Research and Quality (AHRQ). She leads AHRQ's health literacy and cultural and linguistic competence activities, coordinating the Agency's work in developing measures, improving the evidence base, and creating implementation tools. These include the development of the AHRQ Health Literacy Universal Precautions Toolkit, CAHPS® Item Sets for Addressing Health Literacy, the Re-engineered Discharge Toolkit, and the Patient Education Materials Assessment Tool (PEMAT). She serves on the NASEM Roundtable on Health Literacy, where she led an effort to define the ten attributes of a health literate organization.
Virginia Brown, DrPH, Doctor Minor, is an Extension Educator at the University of Maryland Extension. She serves as one of the core members of the University of Maryland's Health Insurance Literacy Initiative. This interdisciplinary group has created the Smart Choice Health Insurance curricula, integrating the best practices of health literacy and financial literacy to assist people in choosing and using health insurance. These efforts led Dr. Brown to be appointed the Extension Council on Policy's Health Insurance Literacy Action Team Chair, with the goal of making Cooperative Extension the leader in health insurance literacy nationwide. 
Marina De Pablo, MPH, MS, is a Clinical Nurse Educator in the Center for Nursing Professional Practice and Research at the University of Chicago Medicine. She is a member of the Medical Center's Steering Committee for Diversity, Inclusion and Equity, past chair for the Sub-Committee for Education and Training, and chairs the interdepartmental Translation Committee. Marina is also a member of the interprofessional Patient Education Committee.  Marina holds an MPH and MS in Nursing from the University of Wisconsin-Madison, and expects to complete a DNP in Systems Leadership from Rush University College of Nursing in April 2017 with project focus on health literacy training for hospital staff nurses. 
Karen Drenkard (see Plenary Presenters)
Anne Fadiman (see Plenary Presenters)
Iris Feinberg, PhD, is the Associate Director at the Adult Literacy Research Center, Georgia State University.
Dr. Feinberg is a health literacy researcher with broad interests, currently working on issues of provider interaction with patients in high-risk populations and engagement of low-wage workers in health insurance and health promotion.  She is a founding board member of the Georgia Alliance for Health Literacy, and is engaged in issues of general adult literacy as well.  Feinberg is a member of the Open Door Collective's adult basic education and research committees.  Website: http://education.gsu.edu/alrc
Cody Fredrick, MPH, is the Community Health Educator and Rural Project Coordinator at the Cancer Health Disparities Initiative (CHDI) within the University of Wisconsin Carbone Cancer Center. Cody provides oversight on two Cancer Clear & Simple grant projects to further community-based research and to disseminate the curriculum across Wisconsin. He also supports CHDI outreach and education efforts in rural communities. A rural native, Cody earned a Master of Public Health at UW-Madison in 2015. He graduated from Marquette University with a Bachelor of Science majoring in Biomedical Sciences in 2012. 
Melissa G. French, MS, is the Program Officer in the Health and Medicine Division of the National Academies of Sciences, Engineering, and Medicine. She has been a staff member on the Roundtable on Health Literacy for 4 years. She has an MS in Health and Medical Policy from George Mason University.
Leslie Gelders, BBA, is the Literacy Coordinator at the Oklahoma Literacy Resource Office, Oklahoma Department of Libraries. She graduated from the University of Texas in 1979 with a BBA. After moving to Oklahoma for a management position with Sears, she became interested in literacy and volunteered as a tutor. This led to a literacy position at the Oklahoma Department of Libraries. As Literacy Coordinator, Leslie provides technical assistance to local programs and represents Oklahoma literacy efforts at state, regional, and national levels. Thanks in part to attending the Wisconsin Health Literacy Summit in 2013, Leslie wrote for and received federal funds to initiate health literacy efforts at libraries and adult literacy programs throughout Oklahoma.
Karen Hernes, MSN, RN, CNE, is an Assistant Professor at Purdue University Northwest College of Nursing.
With undergraduate degrees in psychology and nursing, and a masters' degree in nursing education, Karen Hernes currently teaches baccalaureate level nursing students.  As an acute care nurse, community nurse, and an educator, patient-centered care has been a main focus as she educates, empowers, and advocates for students and patients.
Dennis Johnson, MBA, CGT, CPCC, ACC, brings more than twenty years of experience in the corporate, nonprofit, and philanthropic sectors to his coaching and consulting work. He has strong skills in organizational development, planning and facilitation with in-depth experience in engagement, governance, leadership development, individual and organizational learning, project management, strategy, and strengths based, talent systems. Dennis is Founder and Managing Partner of Sort Sol Group, LLC. He is also a Principal of Leadership Architecture & Design, LLC, an Executive Coach for the Ken Blanchard Companies, and an Adjunct Faculty Instructor at the University of Wisconsin School of Business. Dennis is a Certified Governance Trainer with BoardSource, a Certified Administrator in The Leadership Circle Assessments, a Certified Facilitator Instructor in TCC Group's Core Capacity Assessment Tool, and a professional coach trained through the Coaches Training Institute and the Center for Right Relationships and credentialed by the International Coaching Federation. 
Jann Keenan (see Pre-Summit Presenters) 
Elizabeth Kiscaden, MLIS, AHIP, is the Associate Director of the National Network of Libraries of Medicine (NNLM) Greater Midwest Region (GMR) and has been a health sciences librarian for nearly a decade. Originally from Minnesota, Elizabeth worked at the Mayo Clinic in the Center for Translational Science Activities before relocating to Iowa. Elizabeth started her career in librarianship out as a solo hospital librarian at Mercy Medical Center – North Iowa in Mason City, Iowa. Following this, she served as an academic library director at a liberal arts college before returning to health sciences librarianship as the Head of Library Services at Hardin Library for the Health Sciences. 
Tarah Knaresboro is the Interactive Communication Design Manager at Emmi where she manages the design of Emmi's interactive voice-response products. She is responsible for creating high-quality patient experiences that span over time, mainly focusing on motivating patients to engage in preventative health, supporting chronic condition management, and creating infrastructure for better communication after hospitalizations. Special areas of interest include mental health, human-machine communication, neuroscience, and advancing quality care for underserved groups. 

Sabrina Kurtz-Rossi, M.Ed. is an Assistant Professor of Public Health and Community Medicine at Tufts University School of Medicine. In 2016, she received the Health Literacy Teaching Award from the Association for Prevention Teaching and Research (APTR). She is Principal of Kurtz-Rossi & Associates, a women-owned business offering plain language writing, health literacy teaching and training, and program evaluation services. Kurtz-Rossi is actively working to establish a member-based International Health Literacy Association. The effort aims to nurture a foundation for health literacy professional development that is broadly inclusive of people and organizations working to improve people's lives in many different contexts. 
Kari LaScala, J.D., is the Health Communications Specialist at Wisconsin Health Literacy (WHL). She plays an instrumental role in planning, writing, testing and implementing health literacy interventions for various populations in Wisconsin. Prior to joining WHL, Kari worked at the Waunakee Public Library, where she organized and implemented the majority of public programming for adult patrons. She was also a freelance writer, penning feature articles for the Waunakee Tribune and other local newspapers. She holds a B.A. in journalism and psychology from Northern Illinois University and a J.D. from Northern Illinois University College of Law. She practiced law at a legal aid clinic and law firm in Chicago before moving with her family to the Madison area.
Katie Lepak, MS, is the Health Officer at the Cudahy Health Department. In 2011, Katie graduated from UW-Milwaukee with a master's degree in science with a focus on environmental health. Katie has multifaceted public health experiences, which include working at the local, state and international levels.  Katie completed an internship with the World Health Organization.  Additionally, she has worked for the Wisconsin DHS in the Bureau of Environmental Occupational Health.  As the health officer, Katie works to integrate evidence and science into programs that improve the health of the community.
Robert A. Logan, PhD is a member of the senior staff, National Library of Medicine, and is a professor emeritus and former associate dean at the University of Missouri-Columbia School of Journalism. Logan is the editor of the first book on international health literacy research to be published in 2018 by IOS Press in the Netherlands. Logan helped develop the Health Literacy Tool Shed healthliteracy.bu.edu and is a participant in the National Academy of Science Engineering and Medicine's Health Literacy Roundtable. Logan is a member of the International Health Literacy Association's steering committee. 
Carolyn Martin, MLS, AHIP is the Consumer Health Coordinator for National Network of Libraries of Medicine (NNLM) Pacific Northwest Region (PNR) out of the University of Washington Health Sciences Library in Seattle, Washington.  She promotes health literacy skills, patient engagement, and access to quality health information to libraries and community organizations to reach underserved populations in the Northwest region through classes, conferences, and blogs. Previously, Carolyn worked as a hospital librarian for over twenty years in Indiana before moving to Seattle.
Julie McKinney, MS, is an Independent Consultant with McKinney Health Services and has worked on a variety of health literacy projects for the past 20 years. She has done extensive work for World Education, Inc., the Institute for Healthcare Advancement (IHA), and other health and literacy organizations. She has moderated the Health Literacy Discussion List since 2004, written health literacy curricula, resource guides, and plain language educational materials; and designed and conducted health literacy trainings. Some projects she helped to develop include Family Health & Literacy, Staying Healthy: An English Learner's Guide to Health Care and Healthy Living, and an online Health Science course for the Health Care Learning Network.
Matthew N. Noe, MSLS, is a Library Fellow at the University of Massachusetts Medical School, Lamar Soutter Library/National Network of Libraries of Medicine New England Region. This is furthering his expertise in medical librarianship after completing a Master's of Science in Library Science in 2016. In addition to working with students to meet their needs, Matthew is pursuing several projects to incorporate comics into medical education and practice, including conducting outreach to other librarians through the National Network of Libraries of Medicine New England Region office. In the future, he hopes to research the role that comics - or sequential narratives - can play in literacy, particularly in relation to bioethics and the challenges of informed consent.
Helen Osborne, M.Ed., OTR/L, is the President of Health Literacy Consulting, founder of Health Literacy Month, and host of the podcast series, "Health Literacy Out Loud." She helps others communicate health information in ways that patients, caregivers, and the public can understand. Helen is also author of the award-winning book, Health Literacy from A to Z: Practical Ways to Communicate Your Health Message, Second Edition. To learn more, go to www.healthliteracy.com.
Katherine Pakieser-Reed, PhD, is the Executive Director for the Center for Nursing Professional Practice and Research at the University of Chicago Medicine. Her department is responsible for leading innovation and supporting the clinical practice for more than 2,200 nurses and 400 ancillary staff. She is a member of the Medical Center's Steering Committee for Diversity, Inclusion and Equity, and has served as a chair of the Policy Sub-committee. Katherine is a co-chair of the interprofessional Patient Education Committee. Katherine holds a PhD in Nursing from the University of Wisconsin-Milwaukee. 
Kim Parson (see Plenary Presenters)
Anne Punzak Marcus, MS, is the co-founder and Board Chair of Exceptional Lives, Inc. Anne has over ten years of experience working with organizations focused on brain disorders, education, and health. She was a co-founder of the Autism Consortium and previously worked for Fidelity Investments as a portfolio manager and research director. She founded Exceptional Lives, which provides targeted, health literate guidance to parents of children with disabilities who are going through complex processes to get services and care for their kids. 
Krystal Rafenstein, BSN, RN, is the Clinical Services Coordinator at the Cudahy Health Department. Krystal has been a nurse for over 15 years. She obtained a BSN from Alverno College in 2011 and is currently working towards an Advanced Practice degree. The past five years she has dedicated her career to public health and has a passion for caring and advocating for underserved populations. 
Doris Ravotas, PhD, is the Coordinator of Interdisciplinary Health Services at Western Michigan University.
Dr. Ravotas developed the required course in health literacy practices in the Interdisciplinary Health Services program at Western Michigan University. Her PhD in Rhetoric and Technical Communications from Michigan Technological University was received in 2002 with specializations in literacy, linguistics, and usability testing applied to health communications.  In addition to her academic role in health literacy she is also the coordinator of the Center for Literacy Education, Advocacy and Research in Health, a networking and education coalition in Southwest Michigan.
Susan Reid is the Director of Health Literacy NZ Limited. She has provided advice on health literacy to the Ministry of Health in New Zealand and has completed a number of projects for the Ministry including co-leading the development of the Guide to Health Literacy Reviews. Susan has worked with Government agencies, District Health Boards, NGOs, and PHOs on diverse projects including research about gout, professional development and resources about Live Kidney Donation.
Margaret Carter Richey, Ed.D, MSN, RN, joined Benedictine University as Adjunct MSN Faculty in 2011 and was appointed in August 2012 as Associate Professor. Prior to joining Benedictine, Dr. Richey served as Associate Professor at Mercy College of Health Services in Des Moines, Iowa. She has over 30 years of experience including mental health nursing, burn nursing, health promotion, nursing management, curriculum development and program design, nursing research, academia and public speaking. She received her Ed.D, specializing in Health Professions Education from College of Saint Mary, Omaha NE; her MS in Nursing (MSN) from Drake University, Des Moines, IA, and BS in Nursing also from Drake University. 
Audrey Riffenburgh, PhD (candidate) is the President of Plain Language Works, LLC. She has consulted, presented, and trained on various aspects of health literacy for over 20 years, including implementing health literacy and plain language initiatives. For three years, she was the Health Literacy Specialist at an academic medical center where she led organizational change to implement health literacy practices. Riffenburgh is now completing a PhD in Health Communication. Her dissertation research focuses on strategies to build support for, and to implement health literacy initiatives in healthcare organizations. Her health literacy work is informed by a decade working in adult basic education. 
R.V. Rikard, PhD, is the Senior Postdoctoral Research Associate in the Department of Media and Information at Michigan State University. His research interests include the intersection of health literacy and health disparities and the social impact of information and technology (ICT) on health. His work focuses on how people obtain health information from social connections and social barriers to take action. R.V. is a founding member of the International Health Literacy Association, a member of the International Union for Health Promotion and Education (IUPHE), Global Working Group on Health Literacy (GWG-HL) and the Health Equity Initiative. R.V. is also an Honorary Fellow in the School of Health and Social Development at Deakin University in Victoria, Australia.
Maricel G. Santos, Ed.D, is an Associate Professor of English at San Francisco State University. She teaches in the M.A. in TESOL (Teaching English to Speakers of Other Languages) Program. From 2008-2013, she was a research scholar supported by a Research Infrastructure in Minority Institutions (RIMI) grant from the National Center for Minority Health and Health Disparities, National Institutes of Health. Her research explores adult ESL participation as a health-protective factor in transnational immigrant communities, as well as the ways that adult ESL learners can serve as agents of change in health care. She received her Ed.D in 2003 from Harvard Graduate School of Education, Human Development & Psychology (Language & Literacy).
Mary Ann Schilling, M.Ed., is the Family Living Educator with the University of Wisconsin Cooperative Extension in Waushara County. Mary Ann serves as the co-lead facilitator of the Cancer Clear & Simple program together with Cody Fredrick. She recently trained facilitators from across the state of Wisconsin at two statewide workshops, and supports the facilitators through a newly developed training website. She received a Master of Science in Adult Education from the University of Minnesota in 2008. She graduated in 1981 with a Bachelor of Science in Home Economics-Dietetics, with a minor in Business Administration, from Minnesota State University-Mankato.
Stephanie Severs, MA, is the Health Insurance Literacy Lead at Covering Wisconsin. She leads several projects that create materials to help consumers better understand and use their health insurance. She writes plain language curriculum and materials that are accessible to consumers at all literacy levers, and provides training to organizations in how to use these materials. Stephanie has extensive experience in teaching and curriculum development, including materials to be used with non-native English speakers. She has taught at state universities, and at a refugee resettlement organization. Stephanie holds a master's degree in Spanish Linguistics and a bachelor's degree in English. 
Paul D. Smith (see Pre-Summit Sessions)
Steven Sparks, MS, is the Health Literacy Director, Wisconsin Health Literacy. He provides consultation, training and coordination for statewide health literacy programs, communications and interventions in his role at Wisconsin Health Literacy. He serves as the coordinator of Wisconsin Health Literacy's biennial Health Literacy Summit. He is certified by the American Medical Association as a vendor-consultant to provide communication assessments for health care organizations. Steve has spent his entire career in health and health care communication. Before joining Wisconsin Health Literacy, he held marketing and communications positions in four hospitals and health systems and taught communications courses at three colleges. He holds a master's degree in journalism and mass communication and bachelor's degree in English Education.
Michelle Tregear (see Pre-Summit Sessions)
Christopher Trudeau (see Plenary Presenters)
Ben Williams, MPA, and Managing Partner, Sol Sort Group is a lifelong learner and loves to help leaders and organizations move from idea to action. He enjoys facilitating conversations and developing tools that integrate strategies into organizational decision-making processes. Ben's energy comes from the great relationships built with leaders tackling difficult challenges and seeking opportunities to make an impact in their communities. He has over ten years of experience supporting organizational change through strategy development, business modelling, and scenario thinking for diverse clients, including startup initiatives, nonprofits, businesses, and multi-sector collaboratives.
Dr. Winston F. Wong (see Plenary Presenters)
Anita Woodley (see Plenary Presenters)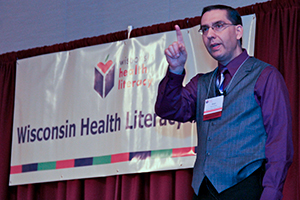 Health Literacy Summit
Over 350 people attended the 2017 Wisconsin Health Literacy Summit, which focused on how improved health literacy can help individuals become more engaged with their health and healthcare.

An additional 80 individuals attended the Medication Label Summit centering on how improving prescription drug labels can help patient understanding. Visit our Summit page for more information.