Summit History
Starting with the first health literacy summit in 2004, Wisconsin Health Literacy has continued a successful history of facilitating a high quality health literacy conference that inspires attendees to use the information learned to make changes that can significantly affect health literacy. The Wisconsin Health Literacy Summit, offered every other year, is considered a major national health literacy event. The summit disseminates the latest health literacy research findings, health literacy interventions in community settings and evidence-based information to an audience of adult literacy educators, health care providers, health insurance professionals, public health staff and policy makers.
2015 Health Literacy Summit - "Better Health through Better Communication"
This conference focused on how improved health communication can lead to better outcomes. This is increasingly important in the changing health care environment in which reimbursement is closely tied to results and population health must be better managed.
Six plenary sessions, twenty-five breakout sessions, a poster presentation and networking opportunities provided attendees with the opportunity to learn more about health literacy and evidence-based interventions, as well as to network with experts and colleagues in the field from many states and some other countries.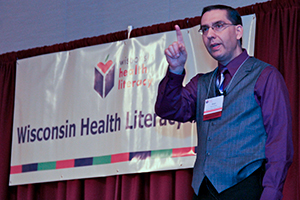 Health Literacy Summit
Over 350 people attended the 2017 Wisconsin Health Literacy Summit, which focused on how improved health literacy can help individuals become more engaged with their health and healthcare.

An additional 80 individuals attended the Medication Label Summit centering on how improving prescription drug labels can help patient understanding. Visit our Summit page for more information.