Request for Exhibit Space
Wisconsin Health Literacy is accepting applications for exhibitors for the 2017 Wisconsin Health Literacy Summit: "Health Literacy: A Critical Link in Patient Engagement," April 4-5, 2017.
Download a Request for Exhibit Space application form here.
As an exhibitor, you will have access to professionals actively seeking help in how to move their organizations and their professions forward. This Summit is recognized as one of the top three health literacy conferences in the country. Our 2015 Summit was attended by individuals from 22 states and 3 foreign countries. 
In 2017, a wide ranging audience expected to number up to 325 will benefit from the summit including:
            * health care administrators
            * public health professionals
            * adult literacy professionals
            * health and social science scholars
            * researchers
            * health insurers
            * pharmacists
            * care coordinators
            * physicians, advanced practitioners & nurses
            * communicators
            * other health care clinical and non-clinical professionals
            * policymakers
Many state and national groups are already endorsing the 2017 Summit as host partners. 
For any questions, please contact Kari LaScala at: kari@wisconsinliteracy.org or 608-257-1655, ext. 5. Please return payment with your application by Friday, March 3, 2017.  Make checks payable to:
Wisconsin Literacy, Inc.
211 S. Paterson St., Suite #260
Madison, WI 53703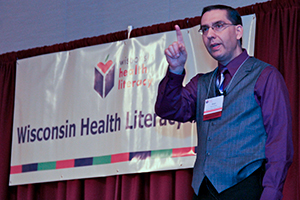 Health Literacy Summit
Over 350 people attended the 2017 Wisconsin Health Literacy Summit, which focused on how improved health literacy can help individuals become more engaged with their health and healthcare.

An additional 80 individuals attended the Medication Label Summit centering on how improving prescription drug labels can help patient understanding. Visit our Summit page for more information.