Sponsors: Health Literacy Summit (April 4-5)
Thanks to the following for helping to make the 2017 event possible!
Platinum
Gold
Silver
Friend
Children's Community Health Plan
EdLogics
Emmi
Hausmann - Johnson Insurance
HSHS Eastern Wisconsin
Institute for Healthcare Advancement (IHA)
M3 Insurance
Quarles & Brady LLP
The Alliance
WEA Trust
UnitedHealth Group
University of Wisconsin Population Health Institute
Additional Support
Beloit Health System
Community Shares of Wisconsin
Thrivent Financial
UW Department of Family Medicine and Community Health
Wisconsin Women's Council
In-kind Support
SSM Health St. Mary's Hospital - Madison (continuing education)
Wisconsin Department of Health Services (videography)
Additional Sponsors for Medication Label Summit (April 3)
Bristol-Myers Squibb
Lilly
Merck
Interested in Sponsoring the Summit?
Sponsor Levels:

Platinum: $10,000 & above
Gold: $5,000 - 9,999
Silver: $3,000 - 4,999
Friend: $1,000 - 2,999
For more information about becoming a sponsor, please contact Dan Plummer at dan@wisconsinliteracy.org; or 608-257-1655, ext. 3.
Please click here for a list of sponsor benefits. 
Funding for this conference was made possible [in part] by grant number 1R13HS025303-01 from the Agency for Healthcare Research and Quality (AHRQ). The views expressed in written conference materials or publications and by speakers and moderators do not necessarily reflect the official policies of the Department of Health and Human Services; nor does mention of trade names, commercial practices, or organizations imply endorsement by the U.S. Government.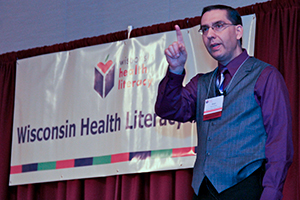 Health Literacy Summit
Over 350 people attended the 2017 Wisconsin Health Literacy Summit, which focused on how improved health literacy can help individuals become more engaged with their health and healthcare.

An additional 80 individuals attended the Medication Label Summit centering on how improving prescription drug labels can help patient understanding. Visit our Summit page for more information.