Improving Early Dementia Care through Health Literacy
Wisconsin Health Literacy developed a toolkit to inform professionals and caregivers about health literacy principles and techniques they can use to improve communications and enhance care for those with early Alzheimer's disease and other dementias.
This toolkit will be widely distributed throughout Wisconsin and will also be the basis for 20 onsite trainings with selected high impact organizations located in Wisconsin. If you would like your organization to be considered for this free training in 2017, or for additional information, please contact Kari LaScala, Health Communications Specialist: 608-257-1655, ext. 5 or via email: kari@wisconsinliteracy.org
This project is supported by a grant from Bader Philanthropies.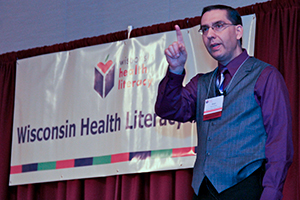 Health Literacy Summit
Over 350 people attended the 2017 Wisconsin Health Literacy Summit, which focused on how improved health literacy can help individuals become more engaged with their health and healthcare.

An additional 80 individuals attended the Medication Label Summit centering on how improving prescription drug labels can help patient understanding. Visit our Summit page for more information.