Julie Schultz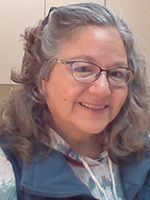 I am a Menominee-enrolled, Brothertown Nation-, Odawa-descendant, who started my career teaching GED students at an auxiliary site of Northcentral Technical College, on the Stockbridge-Munsee reservation, back in 1988. The seeds of passion for adult education were planted there, in the Elderly Center dining area, that doubled as a classroom.
In the 90's, I did outreach as a student services professional, for the College of Menominee Nation, managing the college's auxiliary site located in the Stockbridge-Munsee community. In 2003, I embarked on work as an educator, family service specialist, and program manager for three different early childhood programs: Stockbridge-Munsee Head Start, UW-Oshkosh Head Start, and Menominee Early Childhood Services.
In October 2017, I had an opportunity to come around full-circle and became a full-time Adult Education Coordinator/Instructor for Menominee Tribal Education Department. I was tasked with starting the GED prep program back up, after it had been without an instructor for almost two years. It has been a joy to use all aspects of my experience, and a comprehensive approach to serve students, families, and the community.
Over the past three years, and with the help of partners like Wisconsin Literacy, I have re-established adult basic education services and outreach for the tribal community and surrounding area. Currently, I continue my work with Menominee Tribal Education, and involvement in adult literacy projects with Wisconsin Literacy; I hope to branch out, as this opportunity for member representation on the organization's board has become available