Plumer Lovelace, III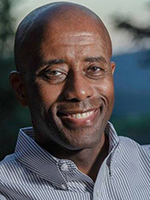 Plumer Lovelace assumed the role of Executive Director for the Wisconsin Library Association in 2013.  Before joining WLA, Lovelace worked with The Rees Group where he served as the Executive Director for the National Council on Measurement in Education; the International Society of Psychiatric mental Health Nurses and the Health Care Education Association.
Prior to managing associations, Lovelace owned an educational technology consulting firm, Imagine Brainwave Technology.  His primary client was US Cellular, where he provided custom software development for approximately three years.
Before creating his own business, Lovelace served as Vice President for the Credit Union National Association's Learning Technology area.  CUNA is the national trade association for America's credit union system, providing services to the nation's 10,500 affiliated credit union.  At CUNA, Plumer was responsible for the research and development of all electronic education for the organization.
Plumer is a graduate of the University of Wisconsin – Madison where he received his BA in Communication Arts.  He also holds an Associate degree in Graphic Arts from Milwaukee Area Technical College and has completed graduate course work in Education Technology.  
Plumer is a seasoned executive who has over 17 years of experience in association management; much of that time has been spent providing leadership and advocacy for non-profits.