Treasurer: Joe Nick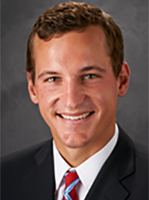 Joe Nick is currently Director of Operations at AmeriLux International in Green Bay. His responsibilities include leading Operations and IT for a building material manufacturer, fabricator, and distributor. His role involves making sure AmeriLux has the people, systems, and equipment in place to meet safety, quality, production, cost, and delivery goals. As the leader of the Operations, he is committed to delivering on their customers' needs and exceeding even their own very high expectations. Prior to this position, Joe worked at Johnson Controls in Milwaukee as Operations Controller with Financial Leadership of four plant locations.
Prior to this position, Joe spent five years working in operations management at Procter & Gamble.
Joe holds a B.S. degree in Electrical Engineering from the University of Wisconsin-Madison and an MBA with a specialization in Corporate Finance & Investment Banking, also from the University of Wisconsin-Madison. Joe joined the WLI Board in 2014. He currently resides in Green Bay with his wife, Hillary and son Gordy.