Meet Oanh from Walworth County Literacy Council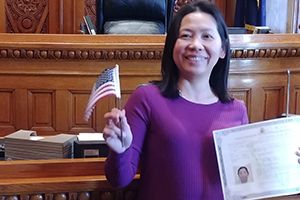 When Oanh came to Walworth County Literacy Council (WCLC), her goals were to be a good parent (she has sons ages 10 and 8), attain Citizenship, and improve her English.  Though she was not able to complete a formal education in her birth country of Vietnam, she knows the value of learning.
The path to success wasn't easy for Oanh. For the past two years, she has worked nights (cleaning a doctor's office) and days (school lunchroom), and on Saturdays (cleaning an Aurora Pharmacy). When she did not have access to a car, she rode her bike to her jobs and even to our tutoring sessions -- no matter the weather.
During this time, Oanh continued to learn.  She needed to understand information about her sons' education given during conferences and in school handouts and to gain computer skills to read her employers' emails.  
In 2019, Oanh's character and hard work were recognized when Walworth Children's Foundation, Inc., voted unanimously to sponsor Oanh and donate the Naturalization fee for her citizenship application.
On January 12, 2020, Oanh passed her Naturalization Civics test and Interview for Citizenship.  
Through her determination to learn and never giving up, Oanh has accomplished all her goals.
Click to read Oanh's story in the Lake Geneva Regional News.
Give to Wisconsin Literacy to strengthen the life-changing work of literacy.