Meet Travis from Sawyer County Adult Literacy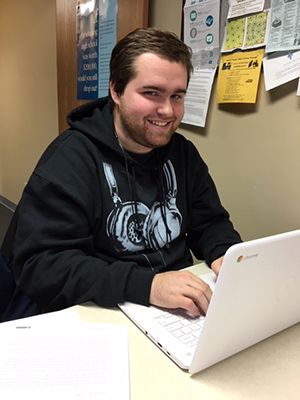 By Deb Helquist, Sawyer County Adult Literacy Coordinator and Tutor 
"I used to be depressed.  I didn't have a positive escape.  I felt like I was always trapped at home, bored, always feeling sad, worried about what other people thought of me.  Then, I came, I learned, and I succeeded!" Travis shared shortly after obtaining his 5.09 HSED (high school equivalency).  
As one of his literacy tutors and his WITC (Wisconsin Indian Technical College) instructors, it has been such a joy to see him come to class almost every week (sometimes 2 or 3 times a week) and travel about 30 miles since the spring of 2018.  He'd spend long hours working on his studies at the WITC/Sawyer County Adult Literacy Center.  Not just working on the competency based 5.09 HSED, but also maturing and adjusting to become more of a "real learner."
Travis experienced many personal and academic challenges throughout his young life.  His tumultuous home life was compounded by his Special Education needs.  He was bullied in school and the fear and fallout that comes with it inhibited his progress at times.  
At the beginning of his senior year, he couldn't enroll in his own school district and was later court ordered to live elsewhere.  He attempted online education, but it wasn't a good fit for many reasons.  When he returned home, he was encouraged to come to our center and get his GED.  Travis' brand new school adventure began!  
It took a few months of assessments, reviewing former school records, and getting to know him as a student before we knew (and he agreed), that the 5.09 option was the best one for him.  Although he had quite few high school credits to apply to the curriculum, the largest subject areas remained.  Travis says, "I went from being lazy to being responsible."  
We who worked with him at the Literacy and WITC programs can attest to his maturing!  
Travis made slow but steady gains, especially in reading, language arts, and vocabulary.  He improved his reading scores by six grade levels!  He worked hard, but also gives credit here for some of his success and progress: "Being on a personal level with my tutors and teachers took a lot of stress off my shoulders — to be able to be open and not be judged."  
Travis' next goals are getting his driver's license, obtaining a job, and going to college to fulfill his ultimate goal of working with the DNR.
He is really looking forward to the May graduation at WITC in Ashland:  "I always wanted to walk the stage and have a graduation party and now it's going to happen!"
Travis encourages other people to come to Sawyer County Adult Literacy: "I recommend the staff here.  And I recommend that more people come to the [Sawyer County Adult Literacy] and WITC, and they can be faithful students."
Give to Wisconsin Literacy to strengthen the life-changing work of literacy.