Background and Additional Resources
This project began with research to see if it was possible to implement label changes in Wisconsin.  
Adopting an Easy-to-Read Medication Label in Wisconsin, found at Bit.ly/MedLabel
Wisconsin Labeling Requirements Summary (including Federal Requirements)
As of June 2016
These elements must be included on the label, as required by law.   
Name and address of licensed pharmacy
Phone number of pharmacy (if out-of-state)
Date dispensed    
Rx number from dispensing pharmacy
Name of prescriber
Full name of patient
Directions for use and cautionary statements
Name an strength of drug, (unless prescriber says no)
Symptom or purpose of drug (if submitted by prescriber)
Brand name may include generic (prescriber can say no)
Generic must name manufacturer
Transfer warning statement
Journal Articles
Davis TC, Wolf M et al, Literacy and Misunderstanding Prescription Drug Labels
Institute of Medicine. Standardizing Medication Labels: Confusing Patients Less
Lee, Charles. Patient Understanding: The Cornerstone of Medication Adherence
Smith, Michelle Cruz Jimenez et al. Lost in translation: Medication labeling for immigrant families. (JAPhA membership required)
Thurmer, A. Building a Patient-Centered Medication Label 
Wolf M, Bailey, SC. The Role of Health Literacy in Patient Safety
Wolf M et al, To err is human: Patient misinterpretations of prescription drug label instructions
Wolf M, Davis TC et al, Effect of Standardized, Patient-Centered Label Instructions to Improve Comprehension of Prescription Drug Use
Wood, B. Medication Adherence: The Real Problem When Treating Chronic Conditions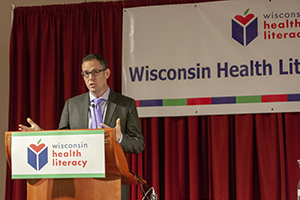 Health Literacy Summit
The Health Literacy Summit is the largest in the Midwest. 
Diverse sessions and networking opportunities provided attendees with the opportunity to learn more about health literacy. 
Visit our Summit page for more information.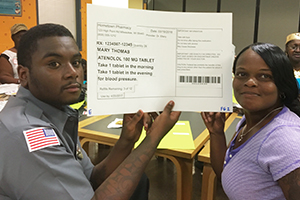 Medication Label
Wisconsin Health Literacy is working with a patient advisory council to design easy-to-read medication labels.  Our work has impacted about 3 million prescription labels in Wisconsin.