Keynote and Plenary Speakers
Suleika Jaouad

Ms. Suleika Jaouad, Emmy award winning journalist and New York Times best-selling author, will have an on-stage conversation about her health literacy experiences as a cancer survivor from her book, Between Two Kingdoms.

Between Two Kingdoms recounts her odyssey of healing and self-discovery after a diagnosis of leukemia at the age of twenty-two and given only a 35% chance of survival. After years of fighting for her life and losing some dear friends she had met through treatment, Jaouad was declared cancer-free. Her single-minded focus on survival was no longer necessary, and she soon realized that surviving and living aren't the same thing. "The hardest part of my cancer experience began once the cancer was gone…. Being cured is not where the work of healing ends. It's where it begins."

Jaouad has served on Barack Obama's Presidential Cancer Panel, the national advisory board of the Bone Marrow and Cancer Foundation, and the Brooklyn Public Library's Arts & Letters Committee. She was awarded the Red Door Advocacy & Community Service Award, and has been an artist in residence at Ucross, ArtYard, and the Kerouac Project. She was an Anacapa Scholar in Residence at the Thacher School and a lecturer in the Narrative Medicine Program at Columbia University. Her reported features, essays and commentary have appeared in The New York Times Magazine, The Atlantic, The Guardian, and Vogue, among other publications.

Dr. Jorge Rodriguez

Dr. Jorge Rodriguez will discuss how digital literacy impacts health equity and what we can do to ensure that we are not leaving people behind as we rely more and more on digital communications.

Dr. Rodriguez's research and passion lie in the meaningful intersection of medicine, social justice, and technology. He is a technology equity researcher and hospitalist in the Division of General Internal Medicine and Primary Care at Brigham and Women's Hospital and Harvard Medical School. He completed his Internal Medicine training at Massachusetts General Hospital. He also completed a Clinical Informatics fellowship at Beth Israel Deaconess Medical Center. Prior to his current position, he was Medical Director of Clinical Informatics at Lawrence General Hospital where he oversaw an electronic health record transition in a safety-net hospital. His work is focused on bridging disparities in patient-facing health technology, including patient portals, mobile apps, and telehealth.

Gail Kouame, MLIS

Ms. Gail Kouame will share results, best practices, and lessons learned from integrating health literacy education for justice-involved individuals.

Ms. Kouame is the Assistant Director for Research & Education Services and Associate Professor at the Robert B. Greenblatt, M.D. Library at Augusta University in Augusta, Georgia. In this role, Gail leads a skilled team of librarians embedded in the university's health sciences colleges and units. Gail works primarily with undergraduate medical education, with a special focus on supporting evidence-based practice as well as participating in case-based learning. Gail's research interests include improving health literacy in vulnerable populations as well as librarian integration into medical education. She has published works about librarian roles in small group case-based learning, and secured a grant from the National Library of Medicine to provide health education and health literacy skills to incarcerated individuals through secure tablet computers. This grant-funded project was the 2020 winner of the Frank Bradway Rogers Information Advancement Award from the Medical Library Association.

Dr. Abdul El-Sayed

Dr. Abdul El-Sayed will share his insight as an epidemiologist on best practices for communicating about COVID-19 and the vaccine including addressing misinformation.

At 30, Dr. El-Sayed served as Detroit's Health Commissioner, making him the youngest health official in a major American City ever. As Health Commissioner, he rebuilt Detroit's Health Department post-privatization during the city's municipal bankruptcy. He led the Department to multiply city funding for public health tenfold, attract millions of dollars in grants, and become a national leader in public health innovation. Prior to his work in public service, Dr. El-Sayed was a tenure-track faculty member at Columbia University's Department of Epidemiology; Director of the Columbia University Systems Science Program; and co-Director of Global Research for Population Health. He graduated with Highest Distinction from the University of Michigan. He holds a Doctorate in Public Health from Oxford University, where he was a Rhodes Scholar, as well as an MD from Columbia University.
Stay tuned for additional speaker updates!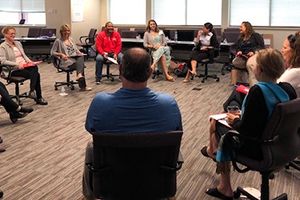 Health Literacy Services
Wisconsin Health Literacy offers training and consulting services customized to meet your organizational needs. Trainings focus on the numerous ways that health literacy impacts care delivery, health outcomes, and public health.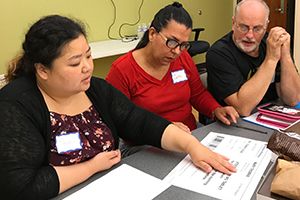 Medication Label
Wisconsin Health Literacy is working with a patient advisory council to design easy-to-read medication labels.  Our work has impacted over 4 million prescription labels in Wisconsin.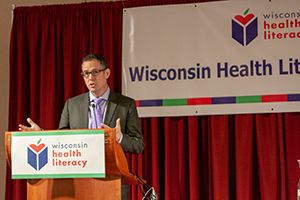 Health Literacy Summit
The Health Literacy Summit is the largest in the Midwest. 
Diverse sessions and networking opportunities provided attendees with the opportunity to learn more about health literacy. 
Visit our Summit page for more information.