Hotel Accommodations
A group of rooms in two nearby hotels has been reserved for Summit guests at discounted rates.  To make a reservation contact the hotel directly using the following dedicated links below or call and mention the Health Literacy Summit. Make reservations early, as the number of discounted rooms is limited and hotel rooms are in great demand that week.
Hilton Madison Monona Terrace - The Summit block of rooms are sold out
(linked to Monona Terrace by walkway)
9 East Wilson St.
Madison, WI 53703

Madison Concourse Hotel and Governor's Club 
(within walking distance to Monona Terrace)
1 West Dayton St.
Madison, WI 53703
(800) 356-8293 or register online. (You must use this link to receive discounted rate.)
Room Block Name: Health Literacy Wisconsin Summit
Reduced conference rate: $139 plus tax
Deadline is March 11.
Optional Parking: $15/day (garage); $20/day (valet)
Travel from Airport
Free shuttle service is available for transportation from the Dane County Regional Airport to the Hilton or the Concourse (check available times.) Call the hotel from the phones located in the baggage area and they will arrange to pick you up. 
Driving/Parking at Monona Terrace
Parking is available at Monona Terrace for $3.00/hr., $16/day. See the Monona Terrace website for driving directions or other nearby parking options.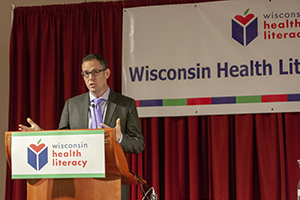 Health Literacy Summit
The Health Literacy Summit is the largest in the Midwest. 
Diverse sessions and networking opportunities provided attendees with the opportunity to learn more about health literacy. 
Visit our Summit page for more information.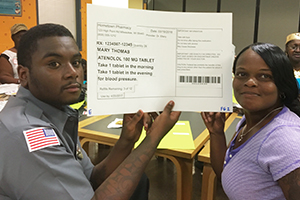 Medication Label
Wisconsin Health Literacy is working with a patient advisory council to design easy-to-read medication labels.  Our work has impacted about 3 million prescription labels in Wisconsin.