Training Services
Wisconsin Health Literacy offers training and/or consulting services customized to an individual organization and/or specialty. This training includes discussion about health literacy and its connection to health outcomes. Additional content would be determined in consultation with the organization to best meet identified goals and objectives.

For more information, contact Stan Hudson, Wisconsin Health Literacy Director, (608) 257-1655, ext. 2, or stan@wisconsinliteracy.org.
Training Modules
The following interactive modules are customized for each organization and include presentation material, activities, and time for discussion. They can be provided individually or packaged as desired.
MODULE 1: Literacy and Health Literacy 101 (1 hour):

 Participants will learn about the prevalence of adults with low literacy, the challenges and assets of adults with low literacy, the role of shame, and red flags for identifying adults with literacy challenges. They learn the definition of health literacy, the prevalence of low health literacy in America and the connection between low health literacy and specific health outcomes. This module also introduces participants to the various categories for health literacy intervention, including plain language written and oral communication.
MODULE 2: Oral Communication (1 hour):

Oral Communication provides opportunities for participants to engage in hands-on activities and games that build plain language communication skills. Activities include Simplify©, a card game that asks participants to reduce the use of medical jargon, and role playing of the Teach-Back Method, a technique for immediately evaluating patient understanding.


 

MODULE 3: Written Communication (1 hour): 

Written Communication is an introduction to the concept of plain language written communication, including practice and hands-on activities. This module can be tailored to groups of health care professionals whose primary role is not related to communications or patient education, but who may need to occasionally develop materials or assess the suitability of materials they provide to patients. A checklist for assessing suitability is provided to all participants.
Presentations
Experienced professionals, including physicians, offer presentations on health literacy and patient centered communication. Content includes how health literacy affects organizations and its customers. Presentations are customized to an organization's specific needs and audience, and include actionable suggestions the audience can use immediately.
Plain Language Writing and Review
Services include review and rewriting of printed materials to improve readability and understanding. These might include forms, discharge instructions, patient education brochures, or marketing materials. 
Website Review
Plain language experts provide a review and evaluation of website ease of use and site content language. Included are usability studies by individuals with lower literacy levels.
Health Care Organizational Assessment
Review of an organization's health literacy environment determines how the organization's flow of crucial information impacts patient safety, staff and patient satisfaction, and organizational financial success. WHL staff can help:
Assess and ensure compliance with accreditation and regulatory requirements

Benchmark and target communication interventions to reduce readmissions

Evaluate and improve patient-centered communication

Identify specific communication gaps to focus quality improvement resources
Request more information or a proposal for training services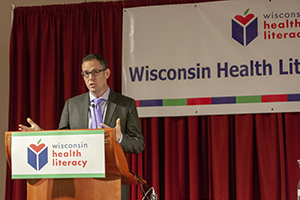 Health Literacy Summit
The Health Literacy Summit is the largest in the Midwest. 
Diverse sessions and networking opportunities provided attendees with the opportunity to learn more about health literacy. 
Visit our Summit page for more information.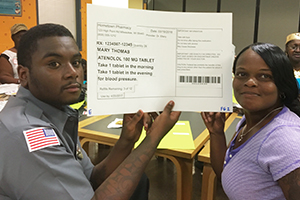 Medication Label
Wisconsin Health Literacy is working with a patient advisory council to design easy-to-read medication labels.  Our work has impacted about 3 million prescription labels in Wisconsin.