Join Our Health Literacy Team as a Health Communications Specialist (part-time)
This part-time position works with other staff at Wisconsin Health Literacy (WHL), a division of Wisconsin Literacy, Inc., to implement health literacy programs across the state.  The Health Communications Specialist will coordinate grant-funded initiatives, such as a series of workshops being held to help individuals with limited health literacy get the most benefit from using medications and another program to help the public better understand opioids and associated risks.  
Responsibilities include:
Identifying and building relationships with partner organizations to offer local programs. 

Coordination, communications, analysis of project data, and occasional facilitation for workshops

Providing content for a health literacy e-newsletter and website

Assisting with biennial Wisconsin Health Literacy Summit, next held in April 2019
The position starts at 20 hours/week, based on currently funded grant projects.  As additional funding is confirmed, this position may expand.  Some travel will be necessary. Candidates should have a bachelor's degree in communications, public health or a related field and three years of relevant experience. Experience in a health care environment is preferred. See the job description for more detail on requirements and responsibilities.
Wisconsin Health Literacy is a statewide non-profit organization located in Madison, WI.  WHL works working with health care organizations, health insurers, community organizations and the public to raise awareness of health literacy and promote clear communication between those who give and those who receive health care services.
To apply, send resume and cover letter, including hours flexibility, by December 15 to healthliteracy@wisconsinliteracy.org, or mail to: Health Literacy Director, Wisconsin Health Literacy, 211 S. Paterson St., Suite 260, Madison, WI  53703.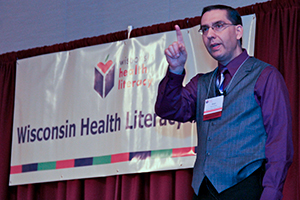 Health Literacy Summit
Over 350 people attended the 2017 Wisconsin Health Literacy Summit, which focused on how improved health literacy can help individuals become more engaged with their health and healthcare.

An additional 80 individuals attended the Medication Label Summit centering on how improving prescription drug labels can help patient understanding. Visit our Summit page for more information.