Health Literacy Summit

The Health Literacy Summit is the Midwest's largest health literacy summit. You will hear from respected experts in the field covering the following tracks:
Organizational Planning

Tools and Resources

Literacy and Health

Health Literacy Improvement

Working with Vulnerable Populations
Plenary sessions, breakout sessions, a poster presentation and networking opportunities provided attendees with the opportunity to learn more about health literacy and evidence-based interventions, as well as to network with experts and colleagues in the field from many states and some other countries. 
Past Conference highlights:
Over 90 speakers/presenters shared the latest information on improving communications through health literacy

25 different breakout sessions allowed you to match your interests with the right presentations

A reception and poster presentation allowed for networking with attendees and presenters involved in innovative communications and research projects

Pre-Summit sessions on "Plain Language Writing and Designing for Effective Communication," "Starting and Growing a Health Literacy Initiative in your Organization," "Communication about Medication," and "Advanced Health Literacy for Professionals" allowed for deep dives into these areas

Summit exhibitors provided information on resources to help you reach your organizational and personal goals

Lunch included the opportunity to network with others in the field as well as participate in an International Health Literacy Association (IHLA) general and interest group meeting
Summit Sponsors: If you are interested in becoming a Summit sponsor, please click here for additional information.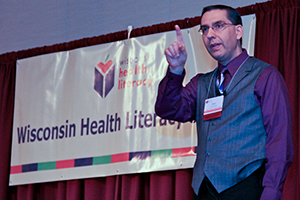 Health Literacy Summit
Over 350 people attended the 2017 Wisconsin Health Literacy Summit, which focused on how improved health literacy can help individuals become more engaged with their health and healthcare.

An additional 80 individuals attended the Medication Label Summit centering on how improving prescription drug labels can help patient understanding. Visit our Summit page for more information.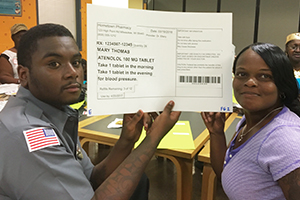 Medication Label
Wisconsin Health Literacy is working with a patient advisory council to design easy-to-read medication labels.  Our work has impacted about 3 million prescription labels in Wisconsin.  Read more about this project.