Concurrent Breakout Session B (Tues., April 2, 2:45 - 3:45 pm)
B1: Building a Health Literate Organization: A Guide to Achieving Organizational Change
Mary Ann Abrams, MD, MPH, Clinical Assistant Professor, Department of Pediatrics, The Ohio State University College of Medicine, and GME Quality Improvement Medical Director and Ambulatory Pediatrician at Nationwide Children's Hospital 
This interactive session, structured on Building Health Literate Organizations:  A Guidebook to Achieving Organizational Change, will address key health literacy development areas that intersect with the attributes of health literate healthcare organizations:  engaging leadership; preparing the workforce; the care environment; involving populations served; verbal communication; and reader-friendly materials. Working together we will address three questions:  Why do you need to address health literacy issues in this area—why is it important? What would success in this area look like—what are the target outcomes? How—what tools, resources, and actions will you use to reach those target outcomes? Participants will gain a working knowledge of the Guidebook, and create a plan to advance the health literate attributes of their healthcare organization, to lead it to:  be easier for people to use; deliver patient-centered care; and support patient-provider communication to improve health care quality, reduce errors, enhance health equity, facilitate shared decision-making, and improve health outcomes.
B2: Patient Activation Through Peer Education: Lessons from Southeastern Pennsylvania
Susan Cosgrove, MPA, CPHQ, Director of Health Literacy, Health Care Improvement Foundation
The purpose of this session is to provide an overview of Health Care Improvement Foundation's peer educator program, and to support participants in developing their own program plans. The session will begin with a description of the program, including successes, challenges, and lessons learned over the last six years. Then session participants will be given tools to assess the feasibility of implementing a peer educator program in their organization. Participants will work through a list of considerations (e.g., target audience, subject matter, potential partners, funding). Finally, participants will develop an action plan as a step towards creating their own peer education program. 
B3: Health + Literacy + English: Building Partnerships to Increase Health Literacy in Adult Learners
Doris Ravotas, PhD, Coordinator of Interdisciplinary Health Services Program, Western Michigan University;
Michael Evans, Executive Director, Kalamazoo Literacy Council 
This workshop will expose attendees to a unique partnership to incorporate health into adult basic education and English language learner programs. It will illustrate how a recent health literacy summer program for refugees and other language learners from 27 countries arose out of earlier partnerships.  Lessons learned about barriers and facilitators to partnerships and programming will be examined.  We will also look at how to plan based on student needs. Participants will have the opportunity to identify partnerships they might build in their local areas.  Workshop participants will leave the workshop with tools for building partnerships and meeting adult learner needs in the programming.  This will include meeting adult learner needs through curriculum selection, removing barriers that can interfere with learning, and leveraging financial support.
B4: Health Communication Through the Lens of Health Literacy and Law Enforcement
Helen Osborne is president of Health Literacy Consulting, founder of Health Literacy Month, and producer/host of the podcast series Health Literacy Out Loud;
Mitch Ross is a police officer in Milwaukee, Wisconsin

Helen and Mitch will talk about everyday communication in situations that relate to health, such as when interacting with citizens who have hearing loss or learning challenges. They also will discuss communication during an accident, fire, active shooter event, or other crisis. Helen and Mitch will then encourage a group conversation and exchange of ideas about using communication to build trust. This can be trust between individuals, across professions, and within communities. Regardless of where we work and what we do, all of us share a commitment to communicating in ways others can understand. Please join this conversation about health communication through the lens of health literacy and law enforcement.

B5: Community Voices
Moderated by: Michele Erikson, Executive Director, Wisconsin Literacy, Inc.; 
Ginger Baier, Transgender Health Advocate, Outreach;
Aaron Perry, CEO/Founder Rebalanced-Life and Wellness Association

Listen to inspiring examples of improving healthcare engagement from 2 representatives from the African-American and Transgender communities. Aaron Perry of Rebalanced Life and Wellness, and Ginger Baier from Outreach in Dane County, WI will share their own stories of both challenges and innovative solutions for positive engagement with the healthcare system from their community and in partnership with providers. Come hear their experiences and recommendations for improving health and healthcare communications.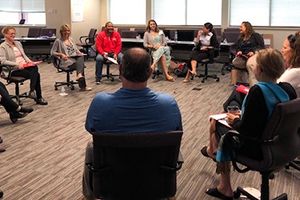 Health Literacy Services
Wisconsin Health Literacy offers training and consulting services customized to meet your organizational needs. Trainings focus on the numerous ways that health literacy impacts care delivery, health outcomes, and public health.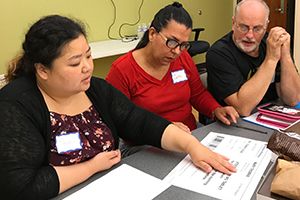 Medication Label
Wisconsin Health Literacy is working with a patient advisory council to design easy-to-read medication labels.  Our work has impacted over 4 million prescription labels in Wisconsin.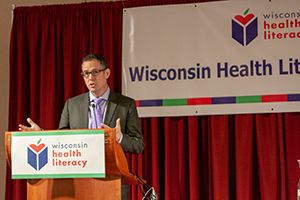 Health Literacy Summit
The Health Literacy Summit is the largest in the Midwest. 
Diverse sessions and networking opportunities provided attendees with the opportunity to learn more about health literacy. 
Visit our Summit page for more information.