Concurrent Breakout Session D (Wed., April 3, 10:45 - 11:45 a.m.)
D1: Building the Case for Health Literacy: Using Safety Events to Tell the Story
Andrea Morrison, MD, MS, Assistant Professor of Pediatrics, Medical College of Wisconsin;
Cori Gibson, MSN, RN, CNL, Safety Specialist and Clinical Nurse Leader, Co-Leader of the Health Literacy Task Force, Children's Hospital of WI
In order to continue to build the case for creating a health literate organization, members of the Health Literacy Task Force and Safety Department at a Midwest children's hospital, reviewed and identified health literacy-associated safety events. The aim was to determine the health literacy themes in safety events reported. Health literacy events were 4% of self-reported safety events with main themes related to: 1) medication errors, 2) verbal communication errors, and 3) discharge errors (instructions and process). The analysis also found that a lack of several 'Attributes of a Health Literate Organization' are contributors to safety events and that there is a financial impact for not addressing health literacy challenges in a health system. The speakers will share findings and offer solutions to help address health literacy challenges in healthcare settings. 
D2: Health Literacy as a Qualifying Criterion for Comprehensive Medication Reviews
Kari Trapskin, PharmD, Vice President of Healthcare Quality Initiatives, Pharmacy Society of Wisconsin;
Dimmy Sokhal, PharmD, Chief Clinical Officer, Hayat Pharmacy

The Wisconsin Pharmacy Quality Collaboration (WPQC) members have received health literacy training to help identify eligible patients and facilitate meaningful interaction between pharmacists and patients during CMR (Comprehensive Medication Review) services. The process for identifying and qualifying a patient for a CMR service based on health literacy will be detailed, and numbers of CMR services occurring in 2017-18 based on health literacy will be reported.  Linkages between health literacy as a barrier to adherence will be made, and adherence toolkit strategies will be reviewed. Several patient encounters will be described, and barriers and mitigating strategies to the current system will be outlined.
D3: Health Online & National Network of Libraries of Medicine Funding Opportunities
Caitlyn Mowatt, BS, Health Communications Specialist, Wisconsin Health Literacy;
Michelle Burda, MLS, Education and Health Literacy Coordinator, National Network of Libraries of Medicine, Middle Atlantic Region, Health Sciences Library System, University of Pittsburgh
With today's focus on obtaining information online or going mobile, there is a digital divide for individuals with low health literacy (Pew, 2015). Through a Health Information Outreach Grant funded by the National Network of Libraries of Medicine (NNLM) Greater Midwest Region (GMR), Wisconsin Health Literacy (WHL) is collaborating with local libraries and literacy agencies to offer "digital health literacy" workshops for consumers most at risk for low health literacy. In this session, you will learn about WHL's proven educational workshop model to reach vulnerable populations, the program content, and ways to help community members identify and effectively use trustworthy sources of online health information. 
You will also learn how to plan, apply, and write a successful proposal for funding from the National Network of Libraries of Medicine (NNLM). Tools and resources for writing proposals will be shared along with examples of previously funded health literacy practices.  
D4: Do you have Peripheral Neuropathy?: The Need for Plain Language in Healthcare Discussions
Sheryl Scott, DNP, RN, CNE, Assistant Professor and Chair, School of Nursing, Wisconsin Lutheran College
Do you have peripheral neuropathy? To a healthcare provider, this question may seem very appropriate when posed to a patient who has a history of diabetes. To a highly anxious, 76 year old male at his first visit to a neurosurgeon for back and hip pain, the question can be confusing and frightening. During this session, the consequences of poor health literacy will be discussed, followed by the exploration of the use of plain language in healthcare interactions. Participants will examine strategies for communicating health information using a universal precautions approach as outlined by the Agency for Healthcare Research and Quality (AHRQ). A small group exercise will provide the opportunity to apply improvement strategies to case studies based on real life patient experiences. 
D5: A Sharper View of Health Literacy for Aging Immigrants in Rural Wisconsin
Laura Apfelbeck, M.A., County Coordinator for UW-Extension FoodWIse;
KaZoua Kue, UW-Manitowoc Student - Social Work Major;
Erika Villafuerte, Multicultural Community Outreach and Engagement, UnitedHealthcare Community Plan – Wisconsin;
Nenglee Vang, MS, Refugee Family Strengthening Program Coordinator, Catholic Charities in Green Bay
Hmong people have lived in Manitowoc County for more than 40 years.  Still, no Hmong elders used the senior center or senior meal sites, and thus Hmong people missed opportunities for blood pressure screenings, insurance counseling, and exercise classes offered there. Discussions with Hmong elders made it clear that they felt isolated and treasured opportunities to see one another, but language, transportation, and cultural barriers were the problems. Learn about a pilot program that is offering traditional Hmong food at a senior dining site and using that site to offer information about medical care, Medicare/Medicaid, dental care, community resources, and nutrition - information that can improve the ability of Hmong elders to live healthier lives. The speakers will share what they learned and how this might be applied to other immigrant communities.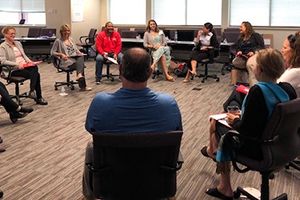 Health Literacy Services
Wisconsin Health Literacy offers training and consulting services customized to meet your organizational needs. Trainings focus on the numerous ways that health literacy impacts care delivery, health outcomes, and public health.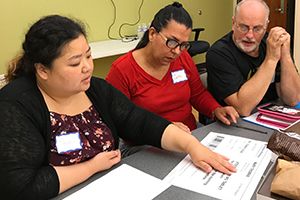 Medication Label
Wisconsin Health Literacy is working with a patient advisory council to design easy-to-read medication labels.  Our work has impacted over 4 million prescription labels in Wisconsin.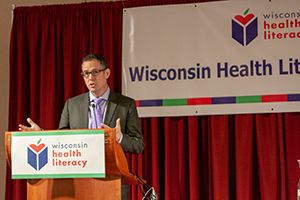 Health Literacy Summit
The Health Literacy Summit is the largest in the Midwest. 
Diverse sessions and networking opportunities provided attendees with the opportunity to learn more about health literacy. 
Visit our Summit page for more information.