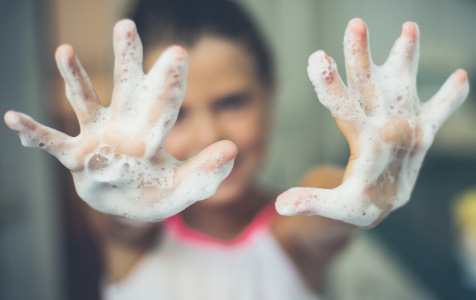 The COVID-19 pandemic changed life suddenly, but our staff responded quickly to this shift.  On March 13th, we learned from our members that they needed up-to-date, accurate COVID-19 information, health information in multiple languages, and a platform to share how other programs were addressing COVID-19.
In two weeks, we created a COVID-19 Health Resources page  with up-to-date and culturally-responsive information about COVID-19 in plain English and multiple others languages. We also created a "Let's Talk About Viruses" fact sheet.   This webpage has had more than 6,000 views.
We worked with the Governor's Office on a "Safer at Home" order in both plain English and Spanish.  Local public health departments, ProLiteracy Worldwide, and statewide literacy programs shared it widely, reaching more than 3,000 people on social media.  The order was also downloaded 1,000 times from our website.
Karin Mahony, Reach Out and Read Wisconsin's Project Manager, said, "Thanks so much for this important information.  I have friends in the Madison area who are Albanian, Lao and Hispanic. I am forwarding all of your information to them and asking them to share with people they know." 
Together, we helped adults of all literacy levels understand COVID-19 related restrictions and how to keep themselves and their communities safe.