Wisconsin Literacy's Impact Report FY2022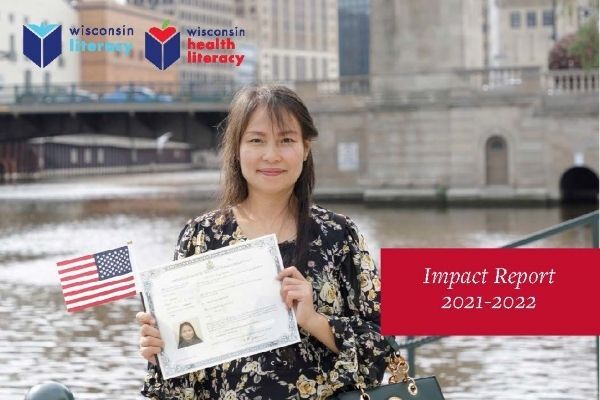 Dear Champions of Literacy,
The world as we know it is nothing like it was just a few years ago. Yet the students served by our member literacy agencies continue to achieve and succeed – thanks to your support.

Your investment in Wisconsin Literacy—and our 70+ community-based agencies – shows over 14,000 students across the state that you believe in them. It also demonstrates to the dedicated staff and volunteers at these agencies that their work is valued and supported every day.
Your gifts last year provided innovative learning tools, training, advocacy and resources to our agencies for in-person and virtual teaching, helping agencies to adapt to meet their students' needs.

The 2022 Impact Report highlights the impact your gift has had on adult learners and their families across Wisconsin. Thank you!
Please reach out to us with any questions – or to enhance your commitment to the life-changing power of adult and family literacy.
Join us at wisconsinliteracy.org to advocate, educate, or donate!

Warmly,
Steve Mundt,
Chair of Wisconsin Literacy Board
Michele Erikson,
Executive Director of Wisconsin Literacy
Wisconsin Health Literacy (WHL) has been working hard to provide education and outreach about the COVID-19 vaccine. Through funding from the Wisconsin Department of Health Services, we trained four regional Vaccine Community Outreach Specialists who are working with community organizations across the state to ensure that adults and families have easy-to-understand, actionable information about the COVID-19 vaccine.

Wisconsin Literacy (WL) increased support and networking for members offering specialized workplace literacy and employment skills training for refugees. As a result, refugees in communities across the state obtained employment, retained employment, and increased their wages.

This past spring, WHL hosted the Midwest's largest Health Literacy Summit, titled, Embracing Health Literacy in the New Normal: Digital Communications, Telehealth, Health Insurance, and Health Equity.

You sent letters to your local state legislator requesting that they support literacy efforts statewide and shared stories of the importance of literacy skill building during the pandemic. Your advocacy efforts made a difference.

A noun: a thing which links two or more things together; a device for keeping two parts in contact; a short road that connects two longer roads. —Oxford Languages, Oxford University Press

Click to see our donor list for FY2022.
Previous Impact Reports
Wisconsin Literacy Impact Report FY 2017-2018
Wisconsin Literacy Annual Report FY 2016-2017
Wisconsin Literacy Annual Report FY 2015-2016
Wisconsin Literacy Annual Report FY 2014-2015
Wisconsin Literacy Annual Report FY 2013-2014