Wisconsin Literacy's Impact Report FY2023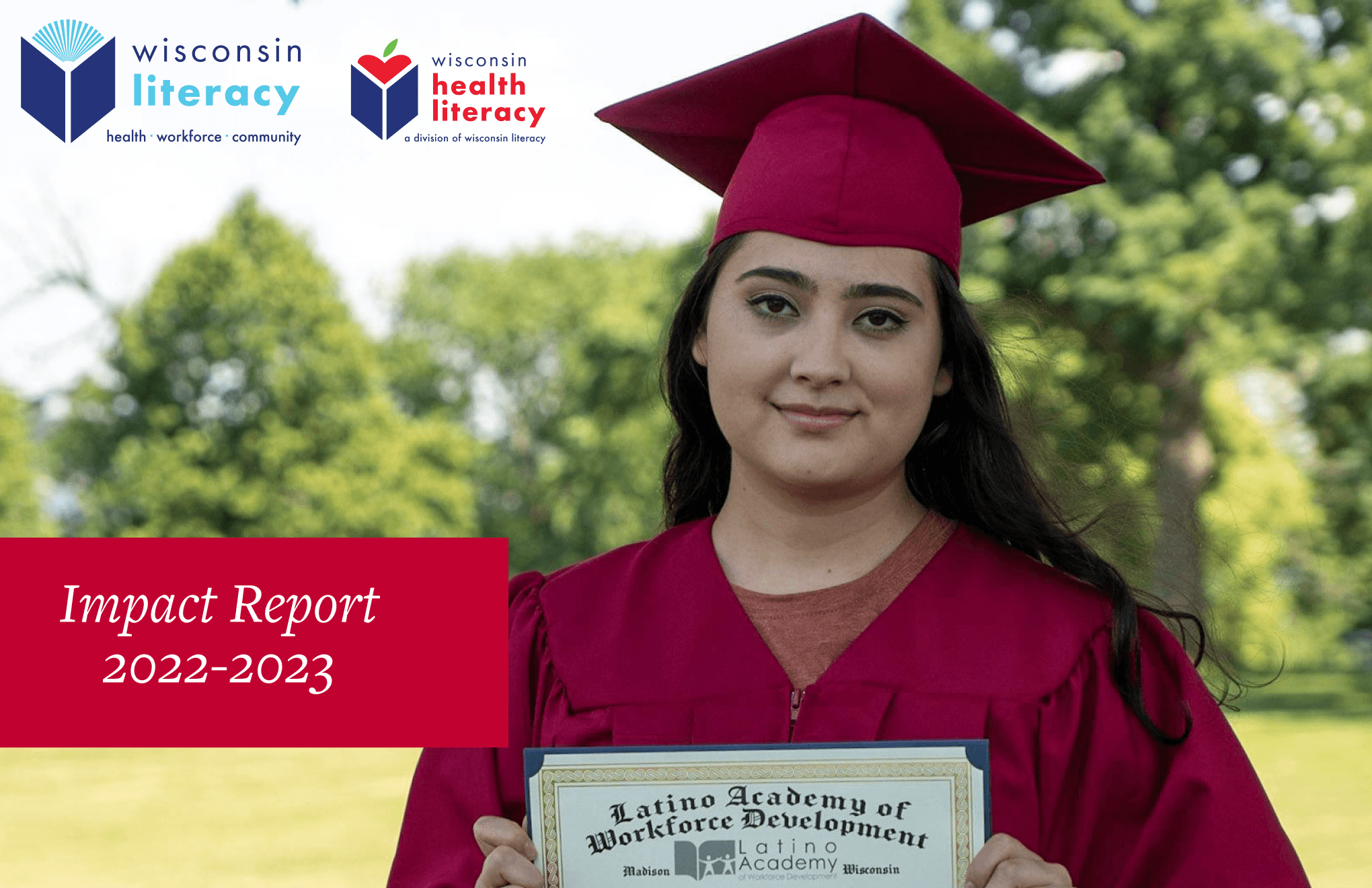 Dear Champions of Literacy,
Amidst the change and growth since Wisconsin Literacy's founding in 1985, one thing remains constant: the support and investment of literacy champions like you. Thank you!

This foundational work can't happen without you.  As donors, stakeholders, funders, partners, member agencies, and volunteer tutors, you are at the heart of what we do every day: developing and sharing training and resources that transform the lives of over 14,000 Wisconsin adults and their families. Thousands more have improved access to reliable health information through the customized initiatives of Wisconsin Health Literacy and our partners. 
The pages that follow highlight how lives are changed and communities strengthened through digital literacy, clear health communication, employment opportunities and advocacy.

Whether you engage with us through our e-newsletter, our social media posts or a gift in honor of someone important to you, your support makes the work of WL and our 70+ member agencies possible. 
We are truly grateful! 

Warmly,
Stephen Mundt,
Chair of Wisconsin Literacy Board
Michele Erikson,
Executive Director of Wisconsin Literacy
In addition to improving health literacy in communities, WHL consults with health and public health organizations to enhance the accessibility of their processes and resources.

Throughout the past year, WL staff worked diligently to nurture relationships with the local Workforce Development Boards, Wisconsin Works (W-2) agencies and businesses. We know that increasing a person's literacy also increases their present and future economic opportunities.

Throughout our history and particularly last year, we focused on meeting the needs of our member agencies and partners through relevant professional development workshops. In the last fiscal year, WL and WHL provided nearly 150 professional development events and trainings designed to help members' staff and volunteers better deliver literacy services.

This past fiscal year, WL leadership spent many hours at the Capitol meeting with Senators and Representatives to advocate for new funding for literacy efforts. We are passionate about sharing the power of literacy and the impact of our member agencies on the economy, workforce, and communities across our state.

Click to see our donor list for FY2023.
Previous Impact Reports
Wisconsin Literacy Impact Report FY 2017-2018
Wisconsin Literacy Annual Report FY 2016-2017
Wisconsin Literacy Annual Report FY 2015-2016
Wisconsin Literacy Annual Report FY 2014-2015
Wisconsin Literacy Annual Report FY 2013-2014