Literacy Statistics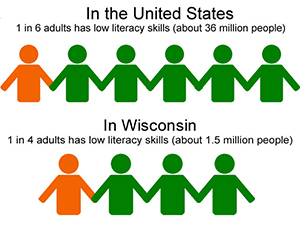 Compared to 24 other countries, the United States ranked 21st in numeracy and 16th in literacy in a recent adult skills assessment.  Nationally, over 30 million adults do not have a high school diploma and 20% of US adults with a high school diploma have only beginning literacy skills.  Among young adults, the US has fewer top performers on either literacy or numeracy than most other countries surveyed.  Our nation and our state are falling behind in the skills needed for people to truly advance and have a better life. (Program for the International Assessment of Adult Competencies (PIAAC) by The Organization for Economic Cooperation and Development (OECD) 2013).
Where does Wisconsin rank?
In Wisconsin, approximately 1.5 million people in Wisconsin qualify for literacy services because they are at the two lowest levels of literacy skills (US Census and the National Adult Literacy survey 1992).  On average 7.3% of Wisconsinites lack "basic prose literacy skills" according to County Health Rankings and Roadmaps and 600,000 adults do not have their high school diploma or equivalent (US Census 2010).  Wisconsin has one of the widest achievement gaps between African American and white students on fourth- and eighth-grade math and reading tests in the nation (2015 National Assessment of Educational Progress).  The gap in graduation rates is the largest in the nation with white student rates at 92.9% and African-American students at 66.1% (The U.S. Department of Education).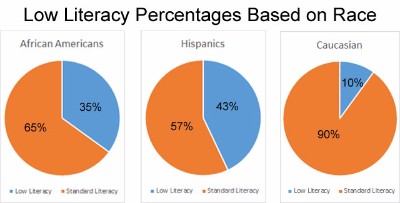 Socioeconomic background has a stronger influence on adult literacy skills in the US than in other countries surveyed by OECD. In the US, the odds of having low literacy skills are ten times higher for low-educated adults born to low-educated parents than for higher-educated adults born to higher educated parents.  At the same time, the wage reward for literacy skills is higher in the US than in almost every other country surveyed by OECD.
How do we solve the problem?
Adult and family education!  We need to provide services to people in their communities to help them get ahead.    Here are some of the things that Wisconsin Literacy members and their volunteer tutors are involved in:
Working with immigrants or refugees to teach English.
Help adults prepare for GED, HSED, and citizenship tests
Teach basic reading or writing skills so learners can get a better job or get into a career training program.
Teach computer skills
Work on job readiness and workplace skills
Volunteers keep literacy programs going.  Volunteer tutor hours provide almost 8 million dollars a year in educational services for Wisconsin and one of the most cost-effective ways to increase education and job readiness skills.  Find a program near you and begin volunteering today!
No time to volunteer?  Consider a donation to help literacy programs across the state keep their doors open and supply much needed education to Wisconsin adults and families.