Wisconsin Literacy's Impact Report FY2021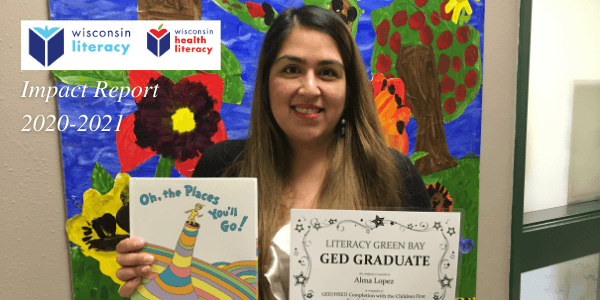 Friends of Wisconsin Literacy ,
"Adaptability to change is itself a hallmark of successful education."  ~ Peter Hilton
If you believe the quote above, it is fair to say that Wisconsin Literacy and its 70-member literacy agencies throughout the state have achieved a mark of excellence in adult and family education. 
Some of the students served in our coalition may never have used a computer, never read print from a page, or never spoke more than a few words of English.
So, you can picture the incredible feat of gaining a GED certificate, seeing their doctor in a telehealth visit, ordering anything online, taking medicine correctly or communicating in English to their work supervisor. And even more extraordinary, is that much of this learning was done in a virtual or hybrid instructional model, supported by Wisconsin Literacy.
It is amazing the human potential that is released every day in local literacy agencies! A journey that can begin with just a letter or a word, continues for a lifetime and across generations.
Who could resist the invitation to impact people on this journey? Join us as a tutor, donor, or advocate at wisconsinliteracy.org.
Cheers to change,    
Steve Mundt,
Chair of Wisconsin Literacy Board
Michele Erikson,
Executive Director of Wisconsin Literacy
Wisconsin Health Literacy (WHL) addressed COVID-19 information, misinformation and vaccination hesitancy in 32 Wisconsin counties.

We conducted nine COVID-19 vaccination Train-the-Trainer (TtT) sessions and trained 232 people. Upon completing the TtT, 97% of attendees reported confidence in talking about COVID vaccines.

Scott Hodek, Section Chief of Department of Workforce Development, Office of Economic Advisors, discussed economic and workforce trends during our virtual Winter Conference on February 3, 2021.

"His session will help me point [adult students] into industries or areas with increased growth prospects," said one participant.

Online education is here to stay. This educational platform allows for students to reduce their travel time (especially in rural communities) and need for childcare.

For our learners, tutors and even literacy agency staff, understanding how to use the technology could be a challenge.

You sent letters to your local state legislator requesting that they support literacy efforts statewide and shared stories of the importance of literacy skill building during the pandemic. Your advocacy efforts made a difference.

Click to see our donor list for FY2021.
Previous Impact Reports
Wisconsin Literacy Impact Report FY 2017-2018
Wisconsin Literacy Annual Report FY 2016-2017
Wisconsin Literacy Annual Report FY 2015-2016
Wisconsin Literacy Annual Report FY 2014-2015
Wisconsin Literacy Annual Report FY 2013-2014