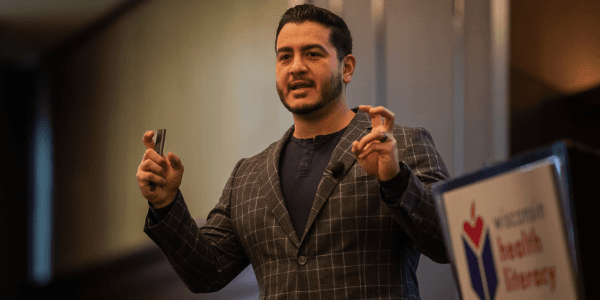 The Wisconsin Health Literacy Summit Embracing Health Literacy in the New Normal: Digital Communications, Telehealth, Health Insurance, and Health Equity and the Vaccine Community Outreach Pre-Summit took place on April 4 -6th, 2022 in Madison, WI.
"The multi-discipline nature of the Summit is quite unique. I was sitting at a table with folks from non-profits doing health literacy, people from the academic world, there were researchers, practitioners, educators . . . we were all learning from each other," shared Dr. Jorge Rodriguez, plenary presenter, technology equity researcher, and hospitalist at Brigham and Women's Hospital and Harvard Medical School. 
Presenters encouraged building trust and listening deeply to patients. "We have to learn to talk to each other not over each other and really meet people where they are at," shared Emma Andrews, our opening keynote and Vice President, Patient Advocacy at Pfizer. 
The commitment and energy of the Milwaukee All of Us plenary presenters were infectious. They spoke about their model for true community engagement to build trust between investigators and the community: 1) to find out what the community wants and needs; 2) to build citizen scientists and integrate community members in each step of the process; and 3) to invest in the community so they prosper.   
Dr. Rodriguez's Striving for Digital Health Inclusion plenary presentation provided a framework for all patients to adopt digital health tools such as mobile health applications, patient portals, and telehealth services. He recommended that partnerships between health systems and community-based organizations can improve access to tools and digital literacy skills. 
Attendees discussed solutions and strategies to communicate health information for improved health outcomes. They also energized each other for the hard work ahead.