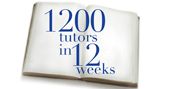 Results for Wisconsin Literacy's 12th annual 1200 Tutors in 12 Weeks recruitment campaign came in this year at 755 newly trained literacy volunteers.
The 12-week campaign, sponsored by Alliant Energy Foundation, American Family Insurance, Dollar General Literacy Foundation, and Green Bay Packers Foundation, provides a way for Wisconsin citizens to give the gift of literacy to other adults in their communities.
"Tutoring is a tremendously rewarding way to volunteer," said Michele Erikson, executive director at Wisconsin Literacy. "Tutors have a chance to help local families through education, and our English language tutors meet new immigrants from all over the world."
A recent survey completed by Wisconsin Literacy's member agencies revealed volunteer tutors provided 280,533 hours of service to 13,368 adult learners at community-based literacy agencies in Wisconsin last year. Currently, 714 learners remain on waiting lists for literacy services.
Wisconsin Literacy provides support to 77 adult and family literacy agencies comprised of more than 4,116 volunteer tutors. The statewide coalition encourages the public to consider the gift of literacy to more than 1.5 million Wisconsin residents in need of literacy services.
"There is still a great need for new tutors. Our agencies train new tutors year around, so we encourage anyone who can give two or three hours a week to helping people with their basic literacy or English language skills to contact their nearest literacy agency," Erikson said.
For more information about how to get involved, as well as a list of member agencies, visit our Find a Literacy Program page or call 608.257.1655.