Eric Johnson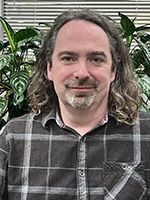 Eric Johnson is the Adult Literacy and Refugee Services Librarian for the Milwaukee Public Library (MPL).  He is also a member of Wisconsin Literacy, serving as MPL's representative for the last 10 years.  As the Program Coordinator for MPL's adult literacy and refugee initiatives, Eric ensures that this program meets the needs of people in the Milwaukee community.  He is active with local literacy organizations and has had great success with creating inclusive partnerships by designing new initiatives to help adult learners, refugees, and new arrivals.  Among these are fostering new 
literacy programs and outreach initiatives, networking, and serving as an effective resource for community partners.  The foundation of Eric's work at MPL focuses heavily on his involvement in the community and working with likeminded partners to not only create a welcoming environment, but to also break down barriers in doing so.
He has been a dedicated member of the Milwaukee Public Library's team for 31 years. Eric was born and raised in Milwaukee, Wisconsin. He has a BA in English and a Masters in Library Science (MLIS) both from the University of Wisconsin-Milwaukee.   In his spare time, Eric enjoys working in his yard, investing, learning Mandarin, and spending time with his many cats.