Members & Community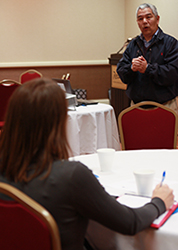 Wisconsin Literacy, Inc., (WLI) serves Wisconsin's communities by serving its member agencies. Through its four Regional Literacy Consultants (RLCs) located in Eau Claire, Madison, Racine, and Milwaukee, member agencies receive services that support their individual and varied needs. This support includes onsite visits that provide help with professional development, board development, tutor training, accountability, grant writing and any other area that an agency may identify. In addition, WLI offers services to help new and emerging literacy agencies become established, as well as expertise in the areas of health literacy, workforce literacy and computer literacy. WLI also collaborates annually with the Wisconsin Technical College System and Department of Public Instruction to host the Wisconsin Adult Literacy Conference and supports its members' attendance through discounted registration fees and gas cards.
WLI's member agencies serve adults:
who need to improve their literacy skills to get a GED or find a better job.

who need customized schedules due to juggling work and parenting responsibilities.

who have learning disabilities that require individualized instruction.

who are improving literacy skills while incarcerated.

who seek confidentiality as they address their reading and writing challenges.

who have had poor experiences with large educational institutions in the past.