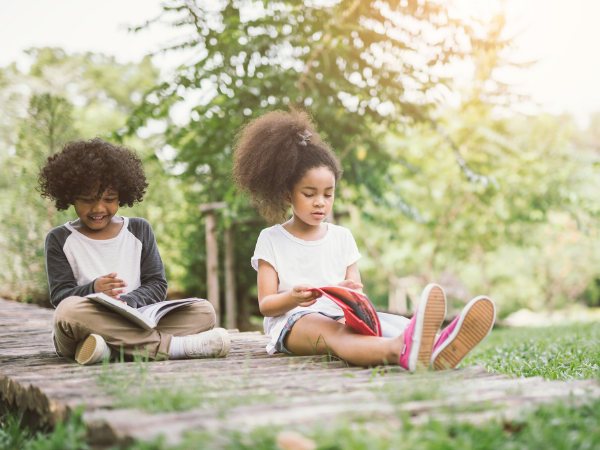 Public libraries across the state are offering online summer reading programs to combat summer slide (the concept that children lose gains in reading and math over the summer while not in school). Parents and caregivers have additional worry this summer since school buildings were closed this spring.
I enrolled my 2 elementary children in our local library's program. I asked several children's librarians across Wisconsin some questions to help me understand this new process. This is what I learned:
Summer Reading Programs
Activity suggestions and tracking logs are online, not on a coloring sheet as in the past
Participants get points and badges after logging activities
Reading is logged in 30 minute intervals 
The Summer Reading programs are about more than reading! (activities vary by library)

Activity examples:

Art Explorer

Take a virtual museum tour
Recreate a work of art with household items

Resource Explorer

Research the day you were born with newspaper archives (through library links)

Create

Write a short story about something you see through your window

Some activities are the same as spring school projects our local school district suggested
There are activities that do not require screen time

Libraries are offering virtual story times and activities
Most libraries are using Beanstack to power their app, so the format is similar across the state
There are options for teens and adults as well

Get started with your phone, tablet, or computer!

1.  Find your local reading program online
Search Google with your library name and "summer reading"
Find your library in the library directory
Can't find a summer reading program at your local library?  

Check back in a week – some programs won't start until later in June
Contact the library director and ask about a program near you
2.    Register on your local library website
Many libraries do not require a library card or email address
3.    Explore activity categories
4.    Create a reading environment in your home
5.    Log reading and activities
Reading is recorded in 30 minute intervals in the Read! Activity
Note: There is a "Reading Log" option in our library's app. This feature isn't being used by our library, so we are ignoring it. It confused me when we first started because I thought I was missing a step (thank you librarians on the live chat for researching this for me). Again, the features may vary by library.
6.    Earn badges
Our library provides links to virtual museums, activities, and apps right in the activities
7.    Win prizes throughout the summer or at the end of the program (process varies by library)

eReaders                                                                                                 
Most libraries use Overdrive and Libby apps to distribute online books

Download the app on your phone, tablet, or just sign-up on your computer 
Set-up an account with your library card
Set-up through your library's website (if you go directly to Overdrive or Libby, it is harder to connect to your library's account)
Not all books are immediately available – you may be put on a wait list

Good option if your library isn't open or offering curbside pick-up this summer
Because we signed up for the summer reading program, our library emails me weekly book recommendations for my children

Free Language Learning Apps
Available at subscribing libraries for free
Set-up an online account to use at home on your phone, tablet, or computer

Need a library card to use outside of the library
Set-up through your library's website to get a free account (if you go directly to Pronunciator or Mango, it is harder to connect to your library's account)

2 programs I found:

Pronunciator

I found this app in the "Kids" section of our library website 
Search Google with your library and "Pronunciator" to see if your library offers this program
My 9-year-old likes learning Spanish on this app
English is one of the many languages you can learn with this app

Mango

I found this on another library's website
Subscription options appear to be similar to Pronunciator with my library
Ways to access summer reading without the app

Print and distribute or text these flyers (from Milwaukee Public Library) in your community: