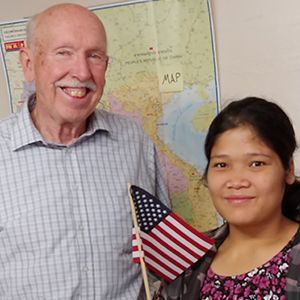 Like the brightness of spring flowers, volunteers brighten the lives of our students around our state. They, frankly, make our lives much easier, too. Whether they are tutors, trainers, office assistants, board members or even cookie bakers, literacy instruction would be hard-pressed to happen without them. 
When I first established my office at the Racine Literacy Council, I looked forward to the once-a-week treats a local doctor prepared for us. I asked her how she got this particular volunteer job. She explained that her schedule didn't allow her to tutor or serve on the board, but she could always find time to bake a batch of cookies for the volunteers, staff and student each week.  It was a way to support our work in a manner that worked for her. 
Reflecting on this, I wondered when volunteering began. I found an interesting article in Volunteer Match, an online blog.
A Brief History of Volunteering in America

This country has relied on volunteers from its start: Colonists banded together to survive the harsh New World, forming support groups to help each other plant crops, build houses and fight disease. Benjamin Franklin developed the first volunteer firehouse in 1736, an idea that has become the country's norm, as more than 70% of all firefighters today are volunteers. And during the Revolutionary War, patriotic citizens volunteered to organize boycotts against British imports and raise funds for the war efforts, and of course there were the famous "minute men," who were a volunteer militia.

It wasn't until the Great Awakening in the 19th century that formal charitable organizations started cropping up. Inspired by religious revival, people became more aware of the disadvantaged, and the YMCA, American Red Cross and the United Way were all born in response.

Volunteers also played an important role in the Civil War, as groups such as Ladies' Aid Societies were created to make bandages, shirts, towels, bedclothes, uniforms and tents.

The 20th century was when mainstream volunteerism really began to flourish, shaping the volunteer and nonprofit organizations that we recognize today. The Rotary Club, Kiwanis and the Lions Club were all established within the first few decades of the 1900s.

One of the first nationwide efforts to coordinate volunteers was in response to the Great Depression, including work by Volunteers of America. The first Volunteer Bureau was founded in Minneapolis, MN in 1919 and became part of the Volunteer Center National Network, which today reaches 170 million people in thousands of cities across the nation.

During World War II, volunteers were active in the military and on the home front. Thousands of volunteer offices took part in coordinating volunteers in collecting supplies, entertaining soldiers on leave and caring for the injured. After the war, major developments including the Peace Corps and President Lyndon B Johnson's "War on Poverty" in 1964 started the expansion of volunteer opportunities that continues today.
President George Bush had his "Thousand Points of Light" and Michelle Obama taught kids and adults how to plant gardens. Volunteering has been making other's lives better for hundreds of years. 
How do we celebrate the people who give countless hours of their time to our programs? During the early months of the pandemic, we may have missed thanking our volunteers who adapted, and then adapted some more, to provide services to our students. 
Now, with some light at the end of the pandemic tunnel, it's time to celebrate the men and women who have stuck with us though all of this.

Thank Them
You can thank your volunteers in dozens of ways. Here are just a few:
Host a virtual thank you party. If you're already using Zoom, invite your volunteers to join you for a toast to their hard work, just for fun and celebration.
Use your Facebook or Twitter for shout outs in a Volunteer Spotlight. Use the volunteers' names, or pictures if you have them. Work your way through every volunteer, continuing it through the whole year, if necessary.
Hand write thank you notes to your volunteers. You may need to involve staff or maybe even you board (they should also receive thank yous) to complete them all. You could even invite students to write thank yous.
Write a letter to the editor of your local paper, thanking your volunteers for all they do.
If you've got the budget for it, consider a small gift that could be mailed or distributed at a drive through event. If you're in-person have a flower or small plant on hand during the week to give to every volunteer who stops in.
Dedicate books in your library to volunteers. As you add new titles, think about adding a bookplate honoring volunteers.
Thanking volunteers should happen more than one week or one month per year, but use this month to start showing your appreciation to the people who put the heart into our work.