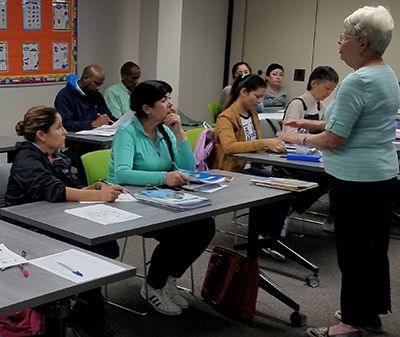 For adult students new to this country or who read at a 4th grade reading level, jumping into a Technical College campus can be overwhelming.  They might not speak the language or be able to complete the coursework.  
But the collaboration between Literacy Green Bay (LGB) and Northeast Wisconsin Technical College (NWTC), eases those students into a technical college career pathway.
Robyn Hallet, Executive Director of Literacy Green Bay, shares the power of this collaboration for adult students.  "They can start off with us in a small comfortable environment.  It's not overwhelming.  We're a small building with a small staff.  You're going to get to know us and feel comfortable here."  
Community-based literacy is the most effective on-ramp to larger career and educational opportunities for adults who otherwise would be challenged to find their way to technical colleges or workforce training.
Once they increase their literacy skills and are more comfortable with English, LGC provides a smooth transition to NWTC.  At NWTC, they are exposed to career pathways and other IET (Integrated Education and Training) programs that can help them with career opportunities.  They become more familiar with college and the services there.  
"It's a motivation for them to consider what their future could hold," shares Robyn. "The biggest incentive is getting people to start thinking about future career possibility."
The key to their success is the Adult Basic Education Navigator.  There is one contact person who helps students navigate to the environment best suited for their success.  With this integrated approach, new students can start either at LGB or at NWTC.  They've aligned their intake forms to smooth transitions between the two locations.  Based on the testing of the student, lower-level learners testing at a 4th grade level or below attend classes at LGB and anyone at a higher level goes to NWTC.  
Partnerships like this ensure adult students of any level can arrive at a career pathway.  Lower-level learners – those without the reading, writing or speaking skills - can't jump right into career education.  Robyn says, "We are positioning them for a future career exploration opportunity, but we have to take baby steps first."
For community-based literacy agencies that don't have a partnership like this, Robyn suggests serving on committee and working together with technical college staff to build a relationship: "If you have that relationship, then you can work together in a way where you are each massaging your own program for the mutual benefit of both organizations and the students too."