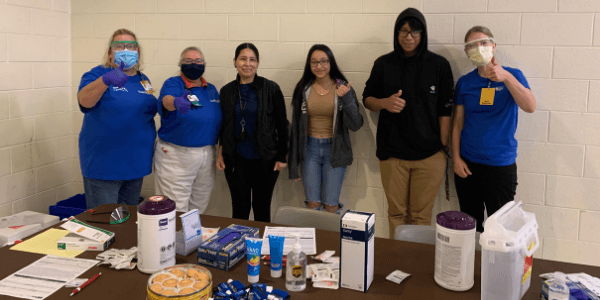 In Wisconsin, 40% of residents are still not fully vaccinated against COVID. In some counties and demographics in the state, the rates of unvaccinated are even higher. 
Wisconsin Health Literacy (WHL), a division of Wisconsin Literacy, wants to make sure that everyone has access to accurate and reliable information about COVID and the COVID vaccines. Thanks to support from the Wisconsin Department of Health Services, we are working with community-based organizations, tribal governments, and other nonprofit organizations to reach underserved populations as trusted members of the community.
"There are people that have digital, language, and cultural barriers that haven't had the same access to information and the ability to make appointments that are convenient to their daily lives. They need easy-to-understand information tailored to their specific concerns and questions about the vaccine," says Stan Hudson, Director of Health Literacy at WHL. 
Four Vaccine Community Outreach (VCO) Regional Specialists on staff are reaching out to all areas of the state to provide information and answer questions about the vaccine. Jaci Shuit, the VCO Northeast Regional Specialist, has presented twice to Literacy Green Bay and to McLit in Marathon County. Patricia Wilson, the VCO Southeast Regional Specialist, encouraged several programs in the Southeast to collaborate with WHL on this outreach. 
Want to learn more? Contact Stan Hudson, at stan@wisconsinliteracy.org or (608) 257-1655 ext. 2.