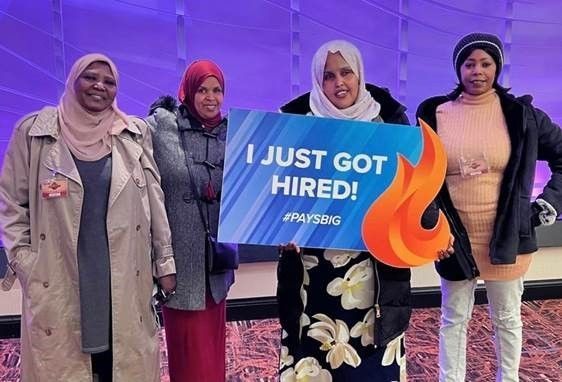 Thanks to the Wisconsin Department of Children and Families, we worked with literacy agency members to engage in Workplace Literacy and Employment Skills activities for Temporary Assistance for Needy Families (TANF)-eligible individuals, specifically refugees. Through a series of networking calls and professional development, we are building capacity for workplace literacy.
"This is an opportunity for our members to do a pilot workplace program. Literacy agencies can develop their plans, make connections with businesses in their community, and figure out the best approach for continuing workplace literacy programs," shares Anna Bierer, Northeast Regional Literacy Consultant. 
Members have already started to see success. Neighborhood House's International Learning Program (ILP) increased employer outreach with the Workplace Literacy and Employment Skills sub-award from Wisconsin Literacy. As a result, ILP connected 4 women with employment at the Potawatomi Casino this  winter (see photo above). Fox Valley Literacy started a pilot program with a local employer that hires people who are immigrants and plans to use that model and apply it to the refugees they serve.
Thanks to the dedication of our literacy members, our workforce partners, and donors, these seeds for a stronger workforce can be planted throughout Wisconsin and continue to grow into the future.
Contact Anna Bierer at anna@wisconsinliteracy.org if you have questions about this opportunity.