You Spread the Word about COVID-19 Vaccinations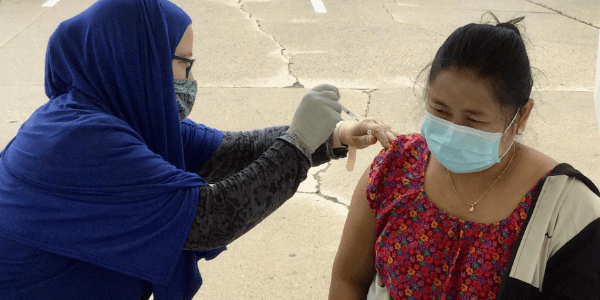 Wisconsin Health Literacy (WHL) addressed COVID-19 information, misinformation and vaccination hesitancy in 32 Wisconsin counties.
We conducted nine COVID-19 vaccination Train-the-Trainer (TtT) sessions and trained 232 people. The TtT program provided easy-to-read curriculum, strategies for difficult conversations, guidance on how to find local vaccine registries and locations that literacy staff and tutors shared with their communities. 
Upon completing the TtT, 97% of attendees reported confidence in talking about COVID vaccines.
Our partner literacy agencies engaged in COVID-19 vaccine outreach in unique, relevant ways to their communities. They connected community members to local vaccine clinics. They taught lessons about COVID and the vaccine through workplace literacy classes at employers, at member sites, at dairy farms, and in one-to-one tutoring sessions. 
"Giving people the chance to learn and ask questions in their own workplaces, neighborhoods, and languages can have a big impact, especially using health literacy and plain language principles," said Kristina Fullerton Rico, English–Spanish Bilingual Vaccine Outreach Coordinator at Portage County Literacy Council.
"We learned that the most significant barrier remains the attitudes and perceptions about the vaccine in the community around them," said Stan Hudson, Health Literacy Director. "Because of this, one-on-one outreach was crucial, so people could open up and share without fear of judgement."
WHL will expand our community outreach in digital literacy, science literacy, and health literacy thanks to the Wisconsin Department of Health Services.