Wisconsin Literacy's Impact Report FY2020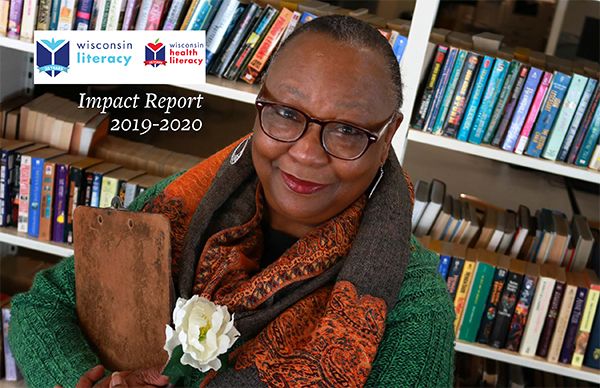 Friends of Wisconsin Literacy ,
Literacy is more essential now than ever before in our organization's 35-year history to the well-being of individuals, families, workplaces and communities.
Literacy skills are necessary to navigate the global pandemic of COVID-19, understand health information, keep your job, help your children learn virtually, find new work, engage with people and businesses online, determine health risks, take prescriptions correctly, and on and on.  
The pandemic taught us that we need literacy skills to strengthen the workforce, to stay healthy, to navigate health inequities as well as social and racial inequities. 
Our work continues, stronger and more urgent than ever.  You have the power to impact people seeking this essential skill. Join us as a tutor, donor or advocate. 
Sincerely,
Bill Boyle,
Chair of Wisconsin Literacy Board
Michele Erikson,
Executive Director of Wisconsin Literacy
"My life changed totally and forever" is how Lili Vera described the impact of two years working with her tutor, Gordon Williams (photo above).

When COVID-19 closures happened, Lili refused to quit. Wisconsin Literacy staff trained members how to move learners like Lili and programs online.

Read how you helped 15,500 adults and families continue their education.

Our Wisconsin Health Literacy (WHL) team worked with staff at WEA Trust, an insurance company, to revise its Explanation of Benefits (EOB) to make them easier for their customers to understand. But instead of just the two organizations working together to make changes, we invited another key group to the discussions - eight members from the community (photo above).

Read how you helped community members receive health literacy support.

The COVID-19 pandemic uncovered gaps in digital access and skills. Through the Department of Children and Family funding, we procured refurbished laptops, GED study buddies, and Zoom accounts to help students continue studying for their high school equivalency.

Read how together we're closing the digital divide and improving job skills.

"For a free people to stay free, the citizens must be informed. Being able to read is critical to being free," one of our supporters shared.

Wisconsin Literacy recognized the critical importance of voting and being counted in the Census. We engaged our member agencies in how to share in this civic responsibility with their adult learners.

Read more about how you supported this critical civic engagement.

Click to see our donor list for FY2020.
Previous Impact Reports
Wisconsin Literacy Impact Report FY 2017-2018
Wisconsin Literacy Annual Report FY 2016-2017
Wisconsin Literacy Annual Report FY 2015-2016
Wisconsin Literacy Annual Report FY 2014-2015
Wisconsin Literacy Annual Report FY 2013-2014