Meet Jack and Maria from the Literacy Council of Sheboygan County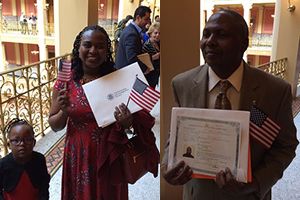 From Immigrant to U.S. Citizen
by Carol Myers
It took sixteen hours to travel by plane from Zambia to Dubai, and after a quick stopover another eighteen hours to fly to New York City. Then after their paperwork was checked, Jack and his family were on another plane to Chicago, then Appleton, then finally a car ride to Oshkosh. Considering he had applied to immigrate in 2005 and it wasn't until 2013 that the trip to the States could be undertaken, the long plane and car journey must have seemed considerably shorter than the wait to finally immigrate.
Jack and his family, including his wife Maria and their four children, applied to and worked with the United Nations Refugee Agency in Africa to immigrate out of Zambia. Their new country, the United States, was chosen for them. Once they came to the United States, they were helped by World Relief. So what has happened since he came to Wisconsin?
After a brief stay in Oshkosh, Jack moved to the Sheboygan area where he found work. He and Maria had another daughter, and Jack now works second shift at Dutchland Plastics in Oostburg while his wife works first shift at Old Wisconsin Sausage in Sheboygan. They recently bought a home in Sheboygan Falls, and their three daughters and two sons attend Bethlehem Lutheran and Sheboygan South High School.
What does he think about the U.S. after being here for five years?
"You're free. You have rights. You are safe—that's a freedom. You go anywhere you want," is what Jack has to say about America. Jack and Maria both recently passed the U.S. citizenship test and interview and went through the naturalization ceremony on November 1. Jack says it was "a wonderful day."
Jack has had several people mentor him since coming to Wisconsin, including some special folks from his church. One of these mentors referred him to the Literacy Council of Sheboygan County, where he has been working with his tutor David for over two years to learn English. David is a former public school elementary teacher who says he likes still being able to teach. They work on reading, writing, and speaking English and talk about whatever topics are relevant to Jack. David has helped Jack understand mortgages, has helped him get his driver's license, and even talked to him about why we turn off the dehumidifier in the winter! "I appreciate this organization [Literacy Council] for teaching English because for two years David [has been] teaching me to understand," says Jack.
Maria also has worked with her Literacy Council tutor Teresa and attended the U.S. Citizenship class at Lakeshore Technical College (LTC). The class is a partnership between the Literacy Council and LTC, and a Literacy Council tutor teaches U.S. Citizenship there on Wednesday evenings. Starting in February, another tutor will be teaching U.S. Citizenship on Friday mornings.
Jack is grateful to all the organizations and people who have helped him on his journey to becoming an American citizen. He and his family have surmounted many challenges—learning English, adapting to a new culture, investing in a new community—they have accomplished so much since arriving here just five years ago.