Book Club for Inmates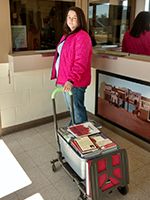 West CAP Literacy Program has been working with the Pierce County Jail to help improve the inmates literacy skills. They noticed that the inmates needed reading materials to help build these skills and to provide times for them to practice reading.
A West CAP tutor meets with each inmate that wants to participate with the book club to ask them what they want to read or what kinds of things they are interested in. She makes a list that the Ellsworth Library Director and her staff read. The librarians pull books by author, title, or subject matter, and get them ready for her.
The tutor gets books from the local library for inmates and has book discussions with them individually.
Inmates are no longer sleeping all day. They are increasing their vocabulary, writing skills, and learning to discuss the books they read. The inmates read the books, and the tutor talks to them individually about the books they have read. She might help some read parts of the book, look up vocabulary words, or talk about what the book is about, what they liked about it, etc.
Pierce County Jail is building a new facility and plans to move into the new building fall of 2017. There will be a program room in the new facility, and West CAP hopes to help with more educational programs for inmates, as well as continue the "Book Club".