Meet Carlos from Racine Literacy Council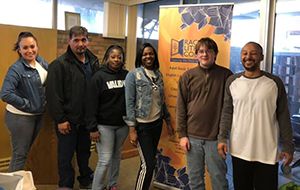 by Carolyn Umfress
"Honestly, if I had failed the Math test [GED] I would have given up right there," said Carlos Ortiz at the Racine Literacy Council's premiere fundraiser, the "OPEN DOOR EVENT" held on March 9, 2019. He was invited to speak about his journey at the RLC. "When I showed up to take the test, I was nervous. The lady at the testing center said, 'Hey you're about to take the hardest test.' It only made me more nervous," he added. Fortunately, Carlos passed his Math GED test in June 2018 and his confidence soared from then on out.   
Carlos first enrolled at the RLC in 2006, looking to improve his English before working on his dream goal of getting his GED. Due to work conflicts, however, he had to take a break in 2009 and stopped attending classes. Then in February 2017, Carlos re-enrolled at the Racine Literacy Council, being placed into the organization's first Pre-GED class taught by an instructor from Gateway Technical College. He became one of four people to successfully complete the class and would eventually become one of the first seven graduates of the YWCA/Racine Literacy Council/Gateway Technical College's new 5.09 HSED program.
Find out more about Racine Literacy Council's collaboration with Gateway Technical College and YWCA Southeast Wisconsin.