Meet Darryl and Dorothy from Literacy Chippewa Valley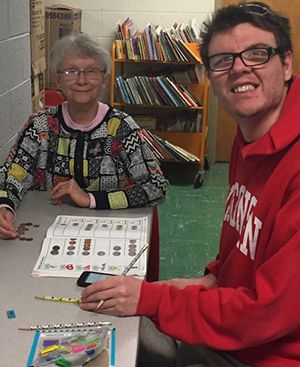 Darryl was in and out of the foster care system throughout his childhood.  As an adult, he moved to a home for adults with intellectual disabilities.  
When he came to LCV (Literacy Chippewa Valley), he wanted help with reading and to get his GED.  
LCV matched him with Dorothy, a retired adult education instructor.  Darryl was very insecure at the start of the match because he struggled in school and knew his skills were low.  He and Dorothy began with the basics, forming letters and numbers.  Dorothy was kind and gracious, and the two eventually built a strong friendship.
After about a year of tutoring, they started with early reading books.  Eventually Darryl was able to read the Little House on the Prairie series by Laura Ingalls Wilder with Dorothy.  They took turns reading sections of the books and then discussed what they read.  
Dorothy also helped Darryl with math basics – adding and subtracting, using flash cards and math games.  Darryl said, "I liked learning all my math and getting better at addition and subtraction." 
According to Dorothy, Darryl continued to "build confidence in himself to do whatever we were asking him to do."  This confidence and his growing reading and math skills helped him get a job working for Kwik Trip.
"He is a kind, genuine man.  It's a great thing to see how far he's come.  He'll say, 'I'm so proud of myself'," says Teresa Pleger, LCV Tutor Student Coordinator. "He has been successful in his own right and that's really what it is all about."
Darryl hopes Dorothy could be his tutor in the fall and to continue working on his GED.