Meet Nicholas with Journey House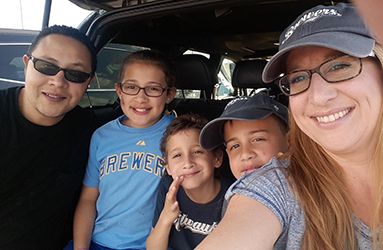 Nicholas came to Journey House back in 2001 to learn English.
He attended their English Language Learner classes and enrolled in their Spanish GED Program after a few years of classes. In 2005, he received his GED all while he was working at Sendiks Food Market in Milwaukee. More recently, Nicholas returned to Journey House to work on his citizenship.
Through the years he has continued working for Sendiks and is now in charge of the dairy and frozen foods sections at the store in Whitefish Bay. His wife is an elementary school teacher in South Milwaukee and they are the proud parents of 4 children ages 11-8 months. The Journey House staff all remember Nicholas from when he and his brother brought about 89 soccer balls to Journey House for the kids in the childcare. Whenever the staff sees him he never fails to mention how appreciative he is of Journey House for all the activities he has participated in there.
Nicholas is an example of how many students keep returning.